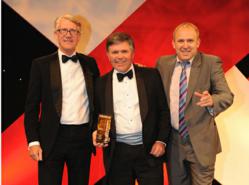 Ringwood, Hampshire, United Kingdom (PRWEB) November 18, 2011
Hampshire-based Long Term Care specialist, The Wealth Care Partnership (TWCP), has won Best Long Care Intermediary at this year's prestigious Health Insurance Awards.
The judges, who were looking for solutions from an intermediary who 'clearly takes long-term care very seriously' was described as 'bowled over by the sheer quality of entries in this important category'. However, it was a particularly complex case handled by TWCP Partner, Tim Anstee, which caught their eye and the 'creative' and 'caring' manner in which the company acted in the interests of its client which impressed them.
Tim Anstee, Partner at TWCP who received the award at the Grosvenor House on London's Park Lane, said: "This is the second consecutive year the award has been given to the company rather than an individual; therefore I was particularly delighted to receive it on behalf of the whole team as it is recognition of all their hard work."
He continued: "The sector we work in needs perseverance and patience, something our staff and advisors have in abundance. National awards of this calibre, where we are judged by our peers, are an excellent barometer of the standards we all aspire to, and an indication to our growing team of specialist advisers that we are very serious about what we do. But perhaps most importantly, receiving this award shows our clients that we are in the business of providing an award-winning standard of help, advice and service on Long Term Care issues, which puts them and their interests first."
This success comes on the back of TWCP Partner, Karen Rayner, winning the same award in 2008 and with the Partners each being Highly Commended in 2009 and 2010.
For the first time TWCP made more than one entry to this year's awards and were delighted that their new development care2plan was shortlisted in Best Business Initiative category. This new website allows individuals to receive a report on their financial options when considering the implications of the cost of receiving care.
There were 13 categories in this year's Health Insurance Intermediary Awards 2011, with just 29 Intermediaries short-listed. The Best Long Term Care Intermediary award, won by TWCP was sponsored by Partnership, a leading provider of insurance products to fund long term care fees.
###