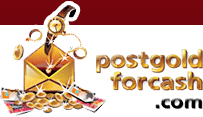 (PRWEB) November 20, 2011
Leading UK gold buyer Postgoldforcash.com has paid out £14,390 to one of their customers for the gold in just one gold selling pack!
This payment is the biggest they have ever paid out and reflects not just how generous a payer Postgoldforcash.com is, but the current and temporary state of the gold market which has absolutely exploded in the last year thanks to the state of the Eurozone at the moment.
Gold prices always rise during times of financial trouble and has been a safe haven investment since the beginning of recorded history. The reason for such meteoric price rises is because gold is more in demand; when something is coveted more, it always rises in price.
When thinking about selling gold for cash, most people imagine putting old and broken necklaces into the gold selling pack and hoping for a great offer. However, this pack contained not just gold jewellery but gold ingots.
The seller not only picked the UK's best gold buyer to sell gold to, they also chose an excellent time to do it as well.
The global recession and recent troubles in the Eurozone are terrible indeed, but have been brilliant for anyone looking to preserve their capital in gold and then sell it for a higher price.
Postgoldforcash.com keeps an eye on the gold price fix every day and makes sure that customers always get the full benefit of any price rises.
Find out more about their excellent cash payments by heading across to http://www.postgoldforcash.com or by contacting Kerry Patton on 01202 666249.
Notes to Editors:
http://www.postgoldforcash.com was established in 2009 and pays excellent prices for the gold that customers send in.
Not only do they provide a quick and efficient service to customers; ensuring that customers get payments as quickly as possible, they also work very hard to make sure they can pay more than their biggest competitors.
Postgoldforcash.com does not charge customers to use their service and pays for all of the postage, packaging and insurance on the gold they buy.
Anyone wishing to order a gold selling pack should go to http://www.postgoldforcash.com.
Please contact Kerry Patton or Lindsay Revill if you have any further questions about Postgoldforcash.com, the £14K cash for gold payment or the services they offer.
###