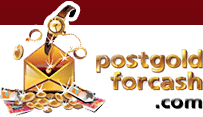 (PRWEB) November 20, 2011
A Postgoldforcash.com employee recently raised £300 for charity.
The employee, named as Zoe ran the Bupa Great South Run 2011 and raised the £300 for Dorset Action on Abuse.
The Bupa Great South Run happens every year and runners can sponsor a charity of their choice. This year's race happened on 30th October 2011 and covered 15 Kilometres.
Bupa holds these running events all over the country and hundreds of thousands of people take part every year. These events are perfect for people like Zoe as the runners are given a once in a lifetime opportunity to raise money for something they really believe in.
In Zoe's case, her chosen charity was Dorset Action on Abuse which helps survivors of childhood abuse live fulfilling and happy lives.
Zoe's employer, leading gold buyer Postgoldforcash.com is no stranger to helping people. They work actively with Re-Employ, an organisation which helps people from troubled backgrounds get jobs.
People have also used their generous cash for gold payments for charitable purposes. Current gold prices, and gold buyers like Postgoldforcash.com who put their customers first and pay generously, have made selling gold for cash a very attractive prospect indeed.
For example, a lady recently sold her gold so that she could get medical treatment for a horse she was looking after. Postgoldforcash.com paid her generously for her gold and the horse is now healthy and thriving.
The £300 Zoe raised in the Bupa Great South Run will benefit Dorset Action on Abuse greatly. The Parkstone-based charity relies on donations in order to carry out its vital work.
Well done Zoe!
Notes to Editors
Postgoldforcash.com is the UK's leading gold buyer and pays excellent prices for the gold that customers send in. The gold buyer works very hard to ensure they can pay more than their biggest competitors and also provides a top quality service that is fast, efficient and friendly at all times.
Find out more about Zoe's excellent fundraising and Postgoldforcash.com by going to http://www.postgoldforcash.com or by calling Kerry Patton or Lindsay Revill on 01202 666249.
Dorset Action on Abuse gained recognised charity status in 2007 and has been doing its excellent work in the Dorset area for much longer.
The charity is dedicated to helping survivors of child abuse live happier lives and is also passionate about challenging some of the damaging stereotypes and attitudes that can hinder survivors in their quest to get on with their lives.
Find out more about Dorset Action on Abuse by going to http://www.dorsetactiononabuse.org.uk or calling 01202 732424.
###