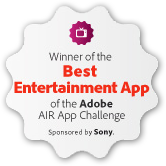 Like a lot of app designers, I dream of making a living off the apps I create
San Francisco, CA (PRWEB) November 18, 2011
During the day, Michelangelo worked with clients designing their apps and web sites, at night he was creating Pirate Scribblebeard's Treasure, the flagship app in series of Oscar & Josephine drawing adventures, to encourage his own son to use touchscreen devices as creative tools and not only for passive entertainment. After a few months of it being sold in app stores, Michelangelo entered his app in the Adobe® AIR® App Challenge contest.
"Like a lot of app designers, I dream of making a living off the apps I create. The reality is that it will be a long time and a lot of work before that can happen – I need to make more apps and spend a lot of time promoting. That takes time and it's hard to make time while taking on paying clients. At the least, I was hoping to spur on my app sales a bit by entering the contest, but I never dreamed I would win."
The prize money from the contest is a welcome surprise because it allows Michelangelo to spend more time making his own apps, which he designs to encourage children to be creative. Michelangelo describes the impetus behind this first app - "My wife and I were really conscious about our child getting sucked into addictive smartphone games or endless video watching on these gadgets. With the lack of arts in schools these days, we wanted a more creative experience for him".
Michelangelo began designing an app that would prompt a child to create their own drawing by completing a partially drawn scene. In addition, Michelangelo created two young hosts of the app, Oscar and Josephine, who encourage children to draw burly pirates, pirate ships, sea monsters and more. Once the child is ready to move to the next page, their drawing comes to life and is incorporated into a bigger animated scene.
But to focus on developing his app, Michelangelo and his family had to take a risk: he left his full-time position in his design firm and took two months to start creating what would become his winning app. A decision that, Michelangelo says, was difficult and intimidating.
"The state of the economy didn't make the choice very easy, but I knew if I didn't do it I would never find the time to pursue the dream of building my own little app company."
Michelangelo has found encouragement from friends and family as well as in the growing community of independent developers doing just what he did: spent late nights, weekends, and time off work to create an app with the hopes of supplementing their income and eventually making a living from selling apps on mobile devices.
"The app stores are extremely competitive - there are just so many great apps out there – and people can be finicky with their $1.99, so this prize money will come in handy."
Michelangelo has already begun work on his second art-based app for children and hopes to have it ready in early 2012.
Pirate Scribblebeard's Treasure with Oscar & Josephine is $1.99 and available now worldwide through the Google Android Market, Amazon Appstore for Android, the Barnes & Noble NOOK Color, and the iTunes App Store.
Pirate Scribblebeard's Treasure Product Page
Video
Screenshot
App Icon
About Kidoodle Apps
Kidoodle Apps makes art activity apps for kids that are especially designed for the new generation of touchable gadgets like the iPad, Galaxy Tab, Xoom, Nook and others. These apps are designed to engage your child's imagination and help to exercise their creative skills in fun and magical ways. Started in 2010, Michelangelo Capraro began Kidoodle Apps as a way to encourage his own son to use technology as a creative tool rather than a media consumption device. Now the apps are available on a multitude of touch-screen devices.
###