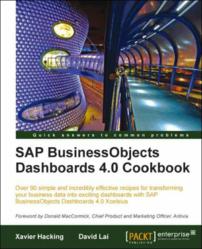 Birmingham, UK (PRWEB) November 19, 2011
SAP's BusinessObjects 4.0 portfolio recently gained a new member to its product family in Xcelsius 2008, rebranding "Xcelsius Enterprise" to "SAP BusinessObjects Dashboards 4.0". With features like flexible design and What-If scenarios, the powerful dashboarding software allows enterprises to make business decisions at- a- glance. Packt Publishing is very pleased to announce that SAP BusinessObjects Dashboards 4.0 Cookbook is now available on Amazon Kindle.
SAP BusinessObjects Dashboards 4.0 Cookbook is full to brimming with over 90 practical and applicable recipes which enable readers to use the latest capabilities of Dashboard Design to visually transform their business data. Throughout the book, readers will perform tasks like configuring charts, creating drill- downs, making component colors dynamic, using alerts in maps, building pop-up screens, setting up What-If scenarios, and much more.
Among Packt Publishing's other successful SAP titles, also available on Kindle, are:

SAP NetWeaver MDM 7.1 Administrator's Guide
Mastering SQL Queries for SAP Business One
SAP Business ONE Implementation
Packt Publishing is a leading computer and IT book and eBook publisher. Packt has been serving the needs of IT communities and professionals since 2004, and launched Packt Enterprise in 2010. Packt are committed to delivering focused and above all, practical titles and has published over 600 Open Source and Enterprise titles to date. All of Packt's titles are available to view, read and download on their in-house library platform, PacktLib.
###