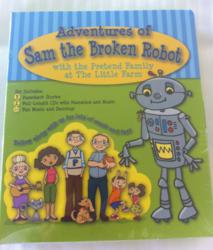 "The children dance to the beat and learn the words --- even if they can't read yet! Such is the miracle of music, rhyme and rhythm."
~ author and composer, Larraine Segil
Los Angeles, CA (PRWEB) November 18, 2011
Everyday activities are the most fun to sing and dance about. Rockin' Grandma Music is just that ---- music to make everyday habits fun, happy and melodious for children.
"I wrote the Rockin' Grandma Music songs and books for my grandchildren who range from 6 months to 6 years. They and their friends loved them so much that I decided to share them with the world," says author and composer Larraine Segil. "The children dance to the beat and learn the words --- even if they can't read yet! Such is the miracle of music, rhyme and rhythm."
The three-books series, Adventures of Sam the Broken Robot with the Pretend Family at the Little Farm, and the accompanying CDs tell the story of a very smart and interesting broken robot. Though born with a broken arm, Sam draws upon his wit and good attitude to solve problems in interesting ways.
His adventures not only tell the story of his family members but also about the Little Farm on which his grandparents live. "Since my husband and I actually do live on a little urban farm, many of Sam's stories come from taking care of animals and making cheese from our goats milk, just as we do with our grandchildren," says Segil.
The 14 songs in Sam's books include The Broken Robot Song, First Day at School Song, Monsters in my Room, The Potty Song, Flying Cows Song, and The Toothbrush song to name a few.
Former CEO and author of several business books, Segil is the Rockin' Grandma of Jack, Jonah, Noah and Gabriel. An avid chef, she also shares many of her favorite recipes using ingredients she and her husband grow on Their Little Farm. Why food and music together? "Music and food are ways to everyone's heart," says Segil. "Its in our heritage, our DNA, to be filled with song and to break bread together."
A perfect holiday gift for children 8 and under, the 3-book, 2-CD set is available at http://www.rockingrandmamusic.com for $29.97.
###