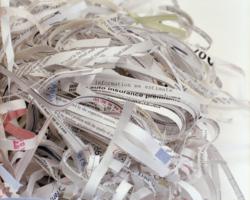 "Our use of the DeCycleIt! program protects our clients' sensitive information through the use of a secure best practices approach for document and media destruction" - Terry Reams, Chief Operating Officer at WFL
St. Louis, Missouri (PRWEB) November 22, 2011
"Our partnership with Project, Inc. to deploy their DeCycleIt! program provides our clients with another important risk management solution to assist with the ever increasing variety of risks inherent in their daily business practices," said Terry Reams, Chief Operating Officer at WFL.
WFL, a St. Louis-based Risk and Insurance Advisory firm, announces their utilization of DeCyclelt! to provide WFL and their clients with secure document destruction services. DeCycleIt! is the only secure document destruction & recycling program in the St. Louis region with a "chain of custody" operating model which provides the highest security available for recycling paper-based material and electronic media.
"Our use of the DeCycleIt! program protects our clients' sensitive information through the use of a secure best practices approach for document and media destruction", said Terry Reams, Chief Operating Officer at WFL. "Their five – step approach provides for material and information security starting at the client site, continuing throughout the pick-up and destruction process and even at final disposal. Receiving the final certificate of destruction is critical for a compliance audit and/or peace of mind. It's a necessary risk management practice for almost every business today."
"We're excited about the partnership with WFL and appreciate the opportunity to assist in their ongoing risk management efforts," said Matt Burridge, Vice President, Project, Inc. and Business Development Officer for DeCycleIt!. "It's not just about paper shredding any longer. We started the program in 2011 in response to what we believed was a missing, yet necessary process in many company document management programs. Sensitive company or client information needs to be treated much differently than what's been done in the past."
"We adhere to the safe handling process as mandated and audited by the National Association for Information Destruction (NAID) and actually exceed them in several key points in their 'chain of custody' process and approach", said Burridge. "We've also joined the Secure Document Alliance (SDA) which has over fifty current members throughout the United States, including every major US City, and provides:
1. paper and electronic media destruction, security consulting, containers, and recycling services;
2. a single point of contact for client account management; and
3. standardized document destruction processes, policies and procedures."
"Given that the SDA only represents non-profit organizations nationwide to increase meaningful employment opportunities for individuals with disabilities, we also felt it was the right organization for us to be a part of," said Burridge.
About WFL
WFL is a risk and insurance advisory company headquartered in St. Louis. For over 30 years, WFL has provided proactive risk management focusing on business protection, employee benefits, surety bond services and personal insurance solutions. For more information, visit our website at http://www.wfl-stl.com or call (314) 436-2399.
About Project, Inc.
Project Inc. was incorporated in 1958 and is the oldest sheltered employer in the State of Missouri. The company's mission is to improve the quality of life for individuals with developmental disabilities by providing long-term, dignified, employment and a foundation for quality social interaction. Through the efforts of our staff, we provide the business community with the DeCycleIt! Program, along with high quality hand assembly, quality inspection, custom packaging and fulfillment services for the printing, advertising, manufacturing, logistics and pharmaceutical markets. For more information, visit our website at http://www.projectinc.org or call 314-880-8818.
###