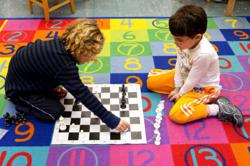 December Chess Camp will keep kids minds flowing throughout their break, with a fun and life-long skill.
New York, NY (PRWEB) November 18, 2011
NYChessKids will be holding their December Camp this year during winter recess from December 26-30 at P.S. 116: The Mary Lindley Murray School, located at 210 E. 33rd St. At previous camps, students from all over the city have come to take part in the great fun and learning experiences that chess offers. The goal of the camp is to foster an environment of learning and fun, so that students are happy before and after the day.
The schedule for each day of the chess camp will remain consistent, however, every lesson will vary day-to-day. Beginning with a warm-up session and a "tournament-style" session, every activity afterwards will change each day.
Students will take part in chess-related tasks like puzzle solving, lessons on demonstration boards and analysis sessions.
At the NYChessKids camp, students will be paired off with kids of similar age and playing skill. Special study groups are offered for very young children and advanced students. The camp also offers instruction to the newest, youngest beginners (as young as 3 1/2 to 4 years old).
It is important that each student has a great time and really utilizes their abilities.
Full day students will focus on chess for the majority of the morning starting at 9 a.m. and will spend the afternoon on outdoor exercises. A tournament-style game will be conducted at the end of the camp day, which will end at 5 p.m. Students participating in half-day camp will be working on chess for the majority of the time from 9 a.m. to 1 p.m.
Drinks, snack and lunch will be provided for students, but kids can bring their own snacks too!
During breaks, students can watch movies, play video games, play more chess/bughouse, or do physical exercises in the gym. For very motivated students, the breaks are a tremendous opportunity for gaining specialized instruction from a teacher.
One week for full-day students costs $340; one week for half-day students costs $225. Students can also choose to pay day-by-day rates at $75 for a full-day and $50 for a half day. Rates increase until December 10 and will be regular price after that.
There is no reason to spend your winter recess watching TV indoors when there is a great opportunity awaiting children. NYChessKids December Chess Camp will keep kids minds flowing throughout their break, with a fun and life-long skill.
###