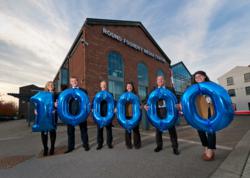 We have grown turnover by 350 per cent in the last three years, and that shows the potential for this young business
leeds, uk (PRWEB UK) 21 November 2011
TheBusinessDesk.com now claims to be the most visited regional business news website in all of its three UK regions – the North West, Yorkshire and the West Midlands, eclipsing local and regional newspaper sites' traffic levels with its 'free to register', advertising, SEO and content driven business model.
The site originally opened in Leeds in 2007, and later opened sister sites and offices in Manchester in 2008 and expanded to Birmingham in 2010. In October, the service sent more than 1.6 million news emails to its subscribers across the UK.
"We have reached two key milestones, 100,000 registered users across three sites shows how rapidly we are growing user numbers, but crucially we have increased revenues by over 40 per cent again last year to nudge £1m. We have grown turnover by 350 per cent in the last three years, and that shows the potential for this young business," said David Parkin, co-founder and managing director of TheBusinessDesk.com.
"Our user base increased by 45 per cent since September 2010, and with revenues on a similar trajectory this will be our first year of operating profit. We now have a great platform for expansion within our existing regions and also into new territories should we see the right opportunity," he added.
The business recruits editors from leading rival news organisations in each location in which it opens and has a staff of 14 reporting business stories in its Yorkshire, North West and West Midlands offices. Its three websites are visited by more than 300,000 business people every month and readers viewed around seven million pages in the past year.
"We are just starting to see the revenue benefits of our SEO ranking and the shift towards online reputation management tools, and we see this as a huge potential market for us. The typical reader is in their 30s or 40s, earns in excess of £100,000 a year and influences or controls significant corporate spending, and our profile partners want to reach and influence this upper level of the business and professional community," added Parkin.
"Over the coming months we will be making a move to expand further, but whether that involves a strategic alliance with other data or publishing organisations remains to be seen. We continue to have some interesting initial conversations with parties who like what we do, and appreciate the value of the content and access we have built up over the past four years, we are open minded to the opportunities," added Parkin.
As of 16th November 2011, registered user numbers for its three sites stood at just over 47,000 in Yorkshire, 36,000 in the North West and in excess of 17,000 registered users have signed up in the West Midlands.
###