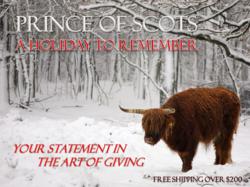 "Imagine 400 Years Without a Santa Claus!" said David Campana, E-Commerce Director
Southampton, New York (PRWEB) November 20, 2011
Kick off the Holiday Season with a Free $25 Gift in Prince of Scots Cash.
Did you know for nearly 400 years celebrating Christmas was banned in Scotland by the Church? Beginning in 1583 Christmas festivities were discouraged by the strict Scottish Presbyterian Church. Under Oliver Cromwell, all festivities in the UK were banned by Parliament in 1647. Celebrating the holiday was against the law and could be meet with punishment until 1958. Prince of Scots proclaims the ban is now lifted.
"Imagine 400 Years Without a Santa Claus!" said David Campana, E-Commerce Director. "Our goal is making up for lost time and truly celebrate the joy of giving this holiday season"
As a special holiday offer, new customers will receive a Free $25 Prince of Scots Cash Gift when making their first purchase at http://www.princeofscots.com/shop. The gift requires no minimum purchase. Details can be found on Prince of Scots Facebook Page under Prince of Scots Cash.
"We are making a statement in the Art of Giving" said Tim Danser, President of Prince of Scots.
Prince of Scots E-Commerce site offers an exclusive collection of gifts and apparel. The on-line boutique is a tribute to modern luxury. Exclusives include cashmere scarves and throws from Ermenegildo Zegna, cufflinks from Thompson of London, Patricia Brown Jewelry, Sabina Les Scarves, and Designer Del Tempo Italian timepieces.
"If you have someone who loves fashion on your gift-giving list this holiday season, Prince of Scots has your unique gift ideas," said Prince of Scots E-Commerce Director David Campana "Our $25 Prince of Scots Cash Gift will help Fashionista's unwrap a gift to make this a Holiday to Remember."
Terms & Conditions:
1. This Promo Code can only be used at Prince of Scots Website when a customer account is created.
2. There are no refunds or redeeming for cash. This offer is available on first order only.
3. This Promo Code cannot be used in conjunction with other discounts, or applied to previously purchased items.
4. This Promo Code only be used once and only one coupon code will be accepted for each transaction.
5. Please enter this Promo Code at Check Out.
6. We reserve the right to with drawl offer in case of any disputes.
7. This Promo Code is valid until recalled by Prince of Scots.
8. Code "Cash25"
Social Network Links
http://www.princeofscots.com
http://www.princeofscots.com/news/
http://www.princeofscots/shop/
http://twitpic.com/6s08f6
http://twitter.com/#!/PrinceofScots1
http://www.facebook.com/pages/Prince-Of-Scots/187463437958180
###