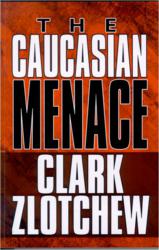 (PRWEB) November 23, 2011
Clark Zlotchew will be signing copies of his espionage/thriller, The Caucasian Menace, at the Book Nook, Dunkirk-Fredonia Plaza, 1170 Central Ave., Dunkirk, N.Y., on Wednesday, November 30, from 6:30 until 8:00 P.M. The novel is a fast-moving, action-packed adventure with international political intrigue that moves from Langley and Washington D.C. through Madrid and Paris to Dagestan, a remote, violence-prone corner of the North Caucasus district of the Russian Federation, between Chechnya and the Caspian Sea.
In this novel, the break-away Republic of Dagestan has nuclear warheads left over from the Soviet Union. The democratically-elected president has been ousted in a coup, and the usurper is intent on selling some of the warheads to Iran and/or terrorist organizations. He also holds a Russian nuclear physicist whom he intends to sell as well. To prevent interference with his plans, the usurper has nuclear missiles trained on key European capitals.
Neither the U.N. nor NATO will take action. The United States, wishing to avoid a nuclear disaster, cannot take any overt action. CIA operatives Baker and Gold are assigned to help the Loyalist army eliminate the usurper and help the Loyalists to recover the reins of government, while avoiding a nuclear confrontation. They must also rescue the scientist and prevent the sale of nuclear warheads to rogue states or terrorists.
Complicating matters, Baker's wife had been tortured and murdered years before by Thorne, the sadistic mercenary now employed by the usurper. Gold fears that Baker may have killing Thorne as his top priority, rather than capturing him for questioning. Meanwhile, William Bell, their immediate superior, has been selling information to the usurper that could result in failure of the mission and the deaths of Baker and Gold.
CONNECTION TO FREDONIA: Dagestan, unfamiliar to most Americans, is a republic within the Russian Federation, between Chechnya and the Caspian Sea, in the North Caucasus Region of Russia. "As unfamiliar as the name may be," Zlotchew said, "a Dagestani dance troupe entertained on the stage of SUNY Fredonia's Marvel Theater," he added, "about 25 or 30 years ago, I believe."
There are about 36 languages and dialects spoken in this small mountainous region. The various ethnic groups do not always agree with each other, and there have been many incidents of violence spilling over from Chechnya for the last couple of years. The region is a potential powder keg, and the events portrayed in this thriller are not far-fetched. The novel is filled with fast-moving violent action, political intrigue and suspense.
The author joined the U.S. Naval Reserve at age 17 as Apprentice Seaman, and received an Honorable Discharge as Chief Petty Officer (in Security). He has had a highly diverse set of careers, ranging from sales/production liaison for a large liquor manufacturer in New York to coordinating an educational program for Spanish-speaking seasonal workers to teaching Spanish at several colleges. At present he is SUNY Distinguished Teaching Professor of Spanish.
Zlotchew has had 17 books published, but only 3 of them consist of his own fiction. His previous works of fiction are the military/action novel, TALON Force: Dire Straits, under pseudonym Cliff Garnett (Signet/NAL, 2001), and his short-story collection, Once Upon a Decade: Tales of the Fifties (Comfort Publishing, 2010), which was one of three Finalists in the Next Generation Indie Book Awards, short-story category, 2011.
###