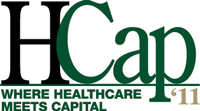 Norwalk, CT (PRWEB) November 21, 2011
Lincoln Healthcare Events today announced that Congressman Paul Ryan (R-WI) will speak to over 400 senior-level healthcare provider and financial executives at the fifth annual HCap: Healthcare & Capital Conference on December 8 at 9:30 a.m. at the JW Marriott in Washington, D.C.
HCap is a national venue for healthcare providers and financial services executives to learn about health policy and trends affecting the entire healthcare system. This year's program focuses on "Understanding the Big Picture in Healthcare" and includes concurrent sessions that specifically address health policy, cost control, provider risk, capital markets and technology.
Coinciding with the close of the 2011 Congressional session, Congressman Ryan's appearance will provide timely insight into his "Path to Prosperity" budget plan which challenges the federal budget, the existing Medicare system and the overall future of healthcare policy in America.
Congressman Ryan's presentation will be followed by a 20-session program that includes over 60 guest speakers including policy analysts, CMS insiders, financial experts and health care services providers.
HCap is exclusively for senior-level executives from healthcare services providers, private equity firms and financial services companies. For details and registration information, please visit http://www.hcapconference.com or contact Kristen Herpel at (203) 644-1712.
About Lincoln Healthcare Events
Lincoln Healthcare Events is an independent producer of C-suite level leadership conferences for the healthcare industry. The company strives to positively impact the quality and effectiveness of the U.S. healthcare system by helping to educate and share best practices among its business leaders.
###