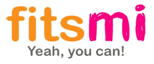 (PRWEB) November 22, 2011
fitsmi.com, the website that helps teen girls struggling with their weight and health to get and stay motivated in a safe, engaging community with other supportive peers, has five tips on how to feel your best during the holidays, otherwise known as the "season of eating.":
Eat Breakfast. Get your protein fix in the a.m., especially during the holiday season. A well-rounded breakfast will keep your blood sugars stable, giving you the energy you need to enjoy holiday shopping (even with the crowds.)
Pick your treats ahead of time. Deciding at the beginning of the day what you want to indulge in will give you something to look forward to during the day but let you go to bed at night without the guilt.
Focus on the whole holiday. Food is not the only thing holidays have to offer. What you wear, even when you're working out, can give you a festive boost. Look for extra special fashion tips on fitsmi.com.
Ignore Negative Comments. Raise your hand if you expect to hear at least one inappropriate comment from a relative this holiday season about your weight, what you're eating, and whether you have a boyfriend. Give yourself a pep talk ahead of time. You're beautiful, interesting, and confident, and you know it. Then, when the worst is said, keep your cool, ignore the comment, and change the subject. Then come share your crazy story on the fitsmi.com boards because we've all been there.
Be Good To Yourself. When you're trying to lose weight and get healthy, the holiday season can be loaded with land mines. Know where they are and resolve to take it one day at a time without being too hard on yourself. fitsmi.com is offering fitsmi2go, the new mobile website that helps you make daily achievable goals, track them and get support from other girls on fitsmi.com, all on your cell phone and for free through January 2012. You're not alone.
Developed by Life 180, Inc., fitsmi.com combines social media with fashion, food, exercise and fun to help teen girls make healthy behavioral changes and improve their self-esteem. A unique separate site, fitsmiForMoms.com the first social network for parents of overweight kids and teens struggling with their weight, provides the expert advice and genuine support parents need to help their children succeed.
###