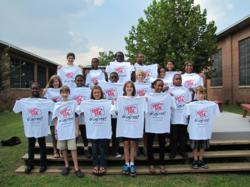 Miami, FL (PRWEB) November 21, 2011
The National Family Partnership (NFP) announced its annual call-for-entries for the new theme of next year's Red Ribbon Week. "The winner will receive national acclaim and recognition," said Peggy Sapp, NFP's volunteer president. "The winning slogan and design will be used throughout 2012 at thousands of schools and communities across America." In its 27th year as the nation's largest and oldest drug prevention campaign, Red Ribbon Week reaches 80 million people each year throughout the United States. The winner will receive $500 worth of Red Ribbon Week 2012 merchandise for their K-12 school. Every year, teachers, students, parents, prevention organizations and concerned citizens compete to have their idea chosen as the new national slogan for Red Ribbon Week.
HOW TO ENTER THE CONTEST:
Entries must be received by December 1st, 2011 via email to info(at)nfp(dot)org (or via mail to National Family Partnership, 2490 Coral Way, Miami, FL 33145). Please include your name, school, telephone number and email address. Contest rules and full details are available at http://www.nfp.org.
HELPFUL HINTS:
Red Ribbon Week is celebrated in schools across America, with large banners and signs hung from marquees and fences. Your theme and design should work within this context. Themes should be brief and as catchy as possible (2011's theme was "It's Up To Me To Be Drug Free." The theme for 2010 was "I Am Drug Free: Choices = Consequences." Other recent annual slogans include "100% Me Drug Free," "Look At Me I'm Drug Free" and "Drug Free Is The Key." While the red ribbon should be prominently featured in the design, it is not required. Please refer to the red ribbon logo at http://www.redribbon.org. And last, don't be afraid to use other colors (in addition to red) in your entry.
NATIONAL RECOGNITION:
The winning theme will be displayed and featured on products at the 2012 Community Anti-Drug Coalitions of America's (CADCA) Annual Leadership Forum (which brings together 2,500 leaders from community anti-drug coalitions, the media, government, addiction treatment professionals, researchers, educators, law enforcement, and faith-based organizations). The winning slogan will also be recognized via Red Ribbon Week's national media relations and social media campaigns.
About Red Ribbon Week and the National Family Partnership: Red Ribbon Week is the nation's largest and oldest drug prevention campaign, reaching 80 million people each year. NFP spearheaded the national campaign in response to the 1985 death of DEA agent Kiki Camarena, who was abducted and murdered by drug traffickers in Mexico. The NFP was established in 1980, and is a national leader in drug prevention, education and advocacy. Its mission is to lead and support the nation's families and communities in nurturing the full potential of healthy, drug-free youth. For more information, please visit http://www.redribbon.org or http://www.nfp.org.
###