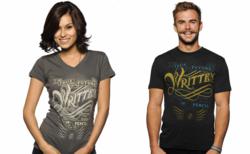 Holiday shoppers will have seven products over seven days benefiting seven charities. A great way to give a gift with purpose.
Los Angeles, CA (PRWEB) November 22, 2011
Social good startup Sevenly announces that it will provide customers the opportunity to purchase t-shirts from past campaigns with the Sevenly Seven Days of Christmas promotion. During the week of Nov. 28 – Dec. 5 Sevenly will sell one shirt from a past campaign each day.
"We've had a lot of feedback from our fans that they want to purchase shirts from a past campaign so we're giving them that chance during the Sevenly Seven Days of Christmas," said CEO Dale Partridge. "These shirts will be very unique (slightly different from the original) and will only be on sale for 24 hours. If you don't get it then, you'll never get it again."
The seven shirts sold during the week will be the same print used during the regular campaign except for slight changes in color schemes and shirt colors. The donation model will stay the same, with seven dollars from every sale going to that campaign's charity.
Designs that will be brought back for this limited edition run have been chosen by Sevenly staff based on the popularity of the shirt design and the number of shirts sold during the regular campaigns. Each shirt and corresponding charity will be announced on the day that it will be featured on the site at 10:00am pacific standard time.
"Sevenly customers that missed their chance to buy these designs during the weekly campaigns will be able to purchase them now and our fans that already purchased these designs can look forward to buying them in a new color," added Partridge. "The neat thing about these shirts is that they will only be offered for one day out of the entire year."
The promotion will follow two special offers taking place this week for Black Friday. Sevenly will give a free, custom made Sevenly wristband reading "World Change is How I Roll" to every customer that purchases a shirt on Black Friday. The company will also launch a new product line on Wednesday, Nov. 23 and begin selling hoodies for $35. Like its shirts, seven dollars from each hoodie sold will be donated by Sevenly to the featured charity.
"For Sevenly Seven Days of Christmas we'll get to write seven checks for seven different charities," said Partridge. "We hope all of our fans log onto the website and our Facebook page next week to see what shirt goes up each morning. I know they will show their support to raise more money for these deserving causes."
Sevenly is a co-profit company founded in June 2011 to raise capital and awareness for the world's greatest causes. Each week Sevenly partners with one qualified nonprofit to sell a shirt specifically designed for that week's campaign, with seven dollars from each shirt sale going to the charity. Run by CEO Dale Partridge, the company's goal is to provide support to charities through increased awareness, funding and following. To learn more about Sevenly visit http://www.Sevenly.org.
###