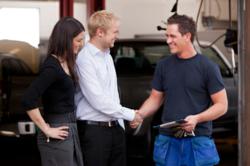 By partnering with Get Covered we are now able to offer a streamlined system for getting the keys to a used car
(PRWEB UK) 22 November 2011
MyCarInspections.co.uk, a London-based company that offer a Nationwide pre-purchase inspection service, see it as an absolutely necessary step to finding the perfect used car. Boasting a Network of over 500 qualified engineers they can either visit the client at the car's current home or at a local inspection centre – all within 48 hours. Assuming the car is safe and the price is right, customers can shake hands confidently.
MyCarInspections.co.uk stand out in the used car inspection market by rewarding their customers with consistently low prices, fast response times and special offers through their partners.
My Car Inspections have found a new partner that, quite literally – have you covered.
Get Covered, a unique insurance platform that shy away from the High Street in order to offer their clients a more personal service. They go one step further than their competitors – giving the money they save their customers directly to a local charity. Their flagship service – excess cover – allows the UK car driver to go to any insurer and opt to pay a higher excess in return for a lower premium. The Get Covered policy will then cover the excess up to £1,000 and pay it back in the event of a claim.
Of course, any match made in heaven brings further benefits – something mycarInspections.co.uk and Get Covered have, and excuse the pun, fired on all cylinders in order to achieve.
Vehicle inspection customers can take advantage of this partnership by claiming a 10% discount on car insurance excess cover through Get Covered. This discount is the latest benefit to be offered as part of the My Car Rewards Program, a loyalty scheme enable participants to earn points for their purchases at mycarinspections.co.uk
David Cross, Managing Director at mycarInspections.co.uk is delighted with the new relationship – "By partnering with Get Covered we are now able to offer a streamlined system for getting the keys to a used car, while being able to drive it with confidence and security", says Cross He continues "Our loyalty program rewards customers with unique motor related savings and high street shopping vouchers. Adding Get Covered excess insurance product to our rewards program offers an excellent product at a discounted rate, and importantly at a time when the insured is looking to amend or renew their policy".
For more information about both companies, please visit http://www.mycarinspections.co.uk – and – https://www.getcovered.com
About The Companies
MyCarInspections.co.uk, part of the My Car Group, was founded in 2007. They provide vehicle inspections to both the fleet trade and private customers.
Specifically, My Car Inspections is the UK's first used car inspection website to offer drivers direct access to both mobile & workshop-based vehicle inspections – a luxury usually only afforded to the commercial customer.
GetCovered.com specializes in the effective implementation of simple insurance products. They love to give something back – either by way of a customer discount, or a donation to their local charity.
The company offers insurance products ranging from the home to automobiles – but place a special focus on their flagship car excess insurance cover.
###