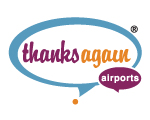 Now through 1/2/2012, PDX travelers can earn double frequent flyer miles for the holidays.
Tyrone, GA (PRWEB) November 20, 2011
Portland International Airport travelers can now earn airline miles not only by flying in and out of PDX, but also by parking, shopping and dining at the airport. Also, now through January 2, 2012, PDX travelers can earn double frequent flyer miles for the holidays. To enroll, simply go to http://www.flypdx.com.
PDX had joined more than 160 airports nationwide to offer airport users access to the Thanks Again Rewards Program which enables airport customers to automatically earn airline miles when they park, shop or dine at PDX using a registered debit or credit card.
Those who register with Thanks Again will earn miles based on registered card purchases at PDX and more than 25,000 businesses and airports nationwide. Airport travelers and visitors paying with a registered card will earn a baseline 1 mile for every dollar spent in both parking and concessions (2 miles for every dollar spent through 1/2/2012). Customers can also earn Bonus Miles—between 500 and 25,000—for meeting certain spending thresholds in a 90-day period.
Participation is easy:
•Visit flypdx.com for free enrollment and register up to five debit or credit cards.
•Use the registered card(s) to park, shop or dine at PDX and earn miles—potentially double or triple miles, or more, if one of the registered cards already earns reward program miles.
Participants need to be an existing member of a rewards/mileage program to enroll in and accrue miles with Thanks Again.
As an added enrollment incentive: PDX will award three 20,000-mile bonus prizes to one winner who registers their card(s) during each of November 2011, December 2011 and January 2012.
PDX's award-winning concession program features 84 stores, restaurants, newsstands and passenger services throughout five terminals offering travelers and airport visitors pricing that is the same as other locations in the city. All locations are open 365 days a year; many locations are open at least 16 hours a day.
Thanks Again participating airline rewards programs include most of the major US air carriers. See http://www.thanksagain.com, call toll free at 877-633-5434, or email info(at)thanksagain(dot)com for more details.
###