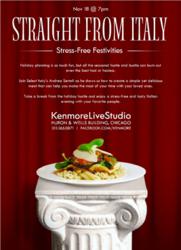 Whether it is a small group or huge gathering, you are sure these simple but tasty recipes will wow your guests
Chicago, IL (PRWEB) November 20, 2011
Friday November 18, Andrea Sertoli took part to the special "Straight From Italy - Stress Free Festivities" where he suggested some quick and easy Italian recipes. The live taping took place at the Kenmore Live Studio on 678 N. Wells St in Chicago, from 7:00 to 7:30 PM. The event was free and open to the public.
The entire Kenmore Live Studio is equipped with cameras that broadcast video via the Internet, so the show was shared in real time online on Select Italy's Blog
Select Italy's Andrea Sertoli demonstrated how to create very simple, easy and fast meals such as orecchiette with yogurt and zucchini, crostini with mushrooms and Swiss cheese, salmon burgers, and baked onions.
"Whether it is a small group or huge gathering, you are sure these simple but tasty recipes will wow your guests", says Andrea Sertoli. "The secret, as usual, is to use genuine ingredients".
The participation in the event at Kenmore Live Studio followed the recent launch of the series of Italian Video Recipes by the Chicago based company. Branded as "Fresh & Italian", the videos are available online on Select Italy's Youtube channel, and based on a set of easy recipes for everyday meals created together with Select Italy's Online Gourmet Food Store and EatInStyle.
The food sector is only one piece of the puzzle that Select Italy is creating with its "You & Italy Project". This comprehensive project aims to bring Italy into people's lives not only in the form of memorable vacations, but also by keeping alive those feelings and tastes that characterize Italian culture through its food, art and entertainment; in other words, to share and promote Italy's uniquely creative and enjoyable lifestyle.
To connect with Select Italy and receive more recipe ideas and other information on everything Italian, you can connect with the Select Italy brand via its social media page on Facebook and Twitter or the Select Italy Blog.
About Select Italy:
Based in Chicago, with branches in New York City and Shanghai and representatives in Italy, Select Italy has been a trusted ambassador of Italian travel expertise since its establishment in 1997 by Italian-born company President, Andrea Sertoli. Select Italy is the ultimate source for travel in Italy, offering a wide array of superior Italian products and services, including customized itineraries, state-of-the-art tours and packages, wedding/honeymoon trips, unique culinary classes, a complete pre-departure ticketing service for museums and musical events, private guided services, yacht charters, transportation, hotel reservations, villa bookings and more. Select Italy is committed to creating the perfect vacation and maximizing enjoyment in Italy for its clients by adhering to the highest standards of professionalism. For more information call (800) 877-1755 or visit Selectitaly.com.
###