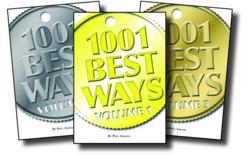 If you ask enough people the right questions, you're bound to get the right answer sooner or later
(PRWEB) November 18, 2011
Just in time for pre-holiday housecleaning, 1001BestWays.com, which publishes the Best Ways to manage life's biggest challenges, announced 25 Best Ways To Clean, as submitted by its readers.
"If you ask enough people the right questions, you're bound to get the right answer sooner or later." That's the thinking behind 1001BestWays.com, which publishes its readers' Best Ways to raise children, save money, advance a career, fall in love, stay in love, and more. Their unedited responses are read daily by over 15,000 Twitter followers (@1001BestWays), the readers of 1001BestWays.com, and the buyers of the book series.
"1001 Best Ways is the lifetime experiences of hundreds and thousands of people", says publisher Paul Angles, "Every day, I am humbled by the collective wisdom people so willingly share."
Best Ways to Clean
Don't vacuum debris.
"A cleaning strategy I have is to be cautious of debris on the floor while vacuuming. I'm careful when I vacuum for the decreased event of damage to the vacuum cleaner, as finding a good one to replace it is sometimes a challenge."
Clean without getting sick.
"Chemical cleaners make me sick, so i am very much into natural cleaners. One of my favorite cleaners is baking soda. We use it for washing clothes, toothbrushing, and cleaning the bathroom and kitchen counters and sinks."
Cleaning with newspaper.
"in order to clean anything of glass just take a newspaper and wet with very small quantity of water then squeeze the newspaper and clean the whole table with it,it will remove all the stains from the glass."
Within an hour.
"I make sure to clean up any messes that I make very soon after I make them. By very soon, I mean within an hour."
Vinegar rocks.
"One of my favorite cleaning products is vinegar. It cleans streak free on glass, and mixed with baking soda makes a great scrub for counter tops, sinks and tubs. It will also remove lime and rust deposits. If your showerhead has a clogged hole, put vinegar in a baggie and tie around the showerhead so it is immersed in the vinegar, leave over night. Then put the vinegar down the drain with baking soda to clear debris from the drain. It is also a deodorize and fabric softener when added to laundry. For really bad odors like cat urine use red vinegar add a cup to the laundry if it is machine washable or mix 50/50 with water and spray on bad areas. Use white vinegar for mild odors"
What to tell your mother-in-law.
"My mother-in-law showed up for a surprise visit while I was mowing the lawn. When I finished, I put away the lawn mower and came in for a beer. She asked, "Aren't you going to rake the clippings?" Thinking fast, I said, "Of course not, I leave the clippings in place to fertelize the lawn without putting chemicals in the ground water."
Comet and Windex.
"one of my favorite cleaning tricks is using comet and windex. Windes will clean off just about anything. If the windex is unable to take any crud off, odds are some comet and a scotchbrite pad will do the trick. I without a doubt get my bathroom the cleanest by using comet and lots of elbow grease."
Crockpot liners!
"I always hate cleaning the crock pot after cooking soups, stews, cheeses and other messy foods. One day I discovered crock pot liners, plastic bags that line your crock pot. When I use these, I don't have to scrub! I just take the bag out and throw it away!"
ROI of bathroom cleaning.
"A clean bathroom is the most bang for the effort expended. Grab a Mr. Clean magic eraser and start in on all the fixtures on the sink, moving to the counter and then the mirrors, rinsing out the eraser as you go. Finish with the toilet and throw away the eraser. Then pull the shower curtain. Done!"
Two birds. One stone.
"One cleaning secret is to clean the shower/tub while you are taking a shower. It somewhat saves water and because you are taking a shower you wont worry about getting dirty."
Wood floor secrets.
"When I am about to clean my wooden floored family room, I go to my cleaning closet for the broom, a clean rag towel and I furniture spray it. Then I sweep the family room floor, dust the furniture and turn the towel over and put it on the broom to wipe across the ceiling to wall areas and get the cobwebs."
Kitty accidents.
"When our cat has an accident (urine, barf) on the wood or tile floor, I first wipe it up with paper towels. Then I wipe the area with a bit of citrus-scented mouthwash. It kills any remaining germs and smells great, too!"
Steam mops.
"My new thing to use for cleaning is the oreck steam mop. This thing gets my floors so nice and clean and all I have to use is water.It doesnt leave a icky feeling on my floors, you can feel that they are clean. I can clean just about anything I want with it, I even did my ceilings with it. I started to do the carpets in my house because we have a dog and I have a 4 year old that plays on the carpet. So its nice to feel that where she is playing is clean."
Never leave a room empty-handed.
"My favorite cleaning secret is to never leave a room empty handed. If you go from the kitchen to your bedroom, take the magazine you've been reading. If you're going from the bathroom to the living room, drop off the dirty towels in the laundry room on the way. This saves time by doing just a little cleaning bit by bit."
Glass Cleaner ... Not Just for Glass
"Windex is my secret weapon for cleaning glass cooktops, stainless steel and painted appliances, ceramic tile and chrome fixtures (great for quickie bathroom cleanups), formica countertops, any painted surfaces including walls, doors and framing and baseboards, hard plastic surfaces and, of course, it's more usual application for windows and mirrors. It's easy to use in spray bottles, simple to tote around the house, and relatively inexpensive comparatively speaking. I've never had a problem with discoloration on any surface I've used it on. Quick, simple and effective."
Pre-shower.
"When cleaning your shower, apply the cleaning solution 30 minutes before you have to take a shower. Let the water run hot for a few minutes to clean off the solution, then get in and scrub the tub before scrubbing yourself."
Washing windows.
"When washing the outside of windows, first wipe the window with a wet cloth to remove the loose dirt. When that is done, use your regular cleaning solution and rags. It will clean up much faster with less chance of streaks forming."
Pledge on plastic.
"I use Pledge to clean the plastic parts of my appliances. -oven handle, refrigerator handle, etc. It cleans the surface and gives it a nice shine."
Shaving cream.
"Tired of scrubbing hard at water stains? Just use shaving cream on the metallic surface."
Care and feeding of fake plants.
"The leaves on my fake plants must be cleaned with disenfectant spray and wiped with with a clean cloth everyday. I also must clean floor boards with a damp cloth and disenfectant spray every day."
A commercial for Dawn.
"I would have to say, my favorite cleaning secret is Dawn Power Dissolver. It cleans the toughest baked on messes from your dishes. It also dissolves grease and is wonderful for cleaning stoves and ovens. It will dissolve the worst mess and leave the surface clean and shiny."
Pets and vacuums.
"Living with pets means you have to vacuum a lot. A good tip to keep the house smelling nice is to put some scent in your vacuum bag - every time you vacuum, the scent is released and makes the room smell great!"
Erasing permanent marker.
"I use static guard to get Permanent Marker off of walls. The marker comes right off. Test on paint surface first in small area."
Purex 3-in-1.
"The best way to do laundry is to make sure all the laundry is in one place. I use Purex 3 in 1 laundry sheets. Just throw into the washer, and let the washer do its things. Then toss it in the dryer, one sheet does it all."
Kids plus glass dining table.
"Having a glass dining room table and little ones leads to a very messy and sticky table. After trying all of the store bought products to clean glass and it being less than effective I asked a friend who informed about the cleaning power of vinegar. I now use vinegar to get the sticky off the table and it works wonderful! It also works on many other surfaces including the counters, the bathroom and more!"
The Story of 1001 Best Ways
Paul Angles, an Internet Marketing Director, was driving home from work, stuck in traffic, and thinking about ways to cut back on the family budget, when he heard a commercial for an Internet Service Provider--his Internet Service Provider!--offering new subscribers $20 off per month for the first year.
Suddenly inspired, he called them and asked for the new subscriber rate. He was promptly turned down. Undeterred, he asked the operator if he could cancel his account and restart it at the new rate. That did the trick. With less than 5 minutes work, he saved $240 without having to cut back on anything.
It was so much fun saving so much money that he began to wonder who else he could call. And which of his friends he could tell. And what ideas they might have. And how there ought to be a website that collected those great ideas and made them available.
Soon, he created 1001BestWays.com and began collecting Best Ways by the hundreds, posting them hourly on the website, tweeting them, and finally, collecting them into a series of books available in Kindle and in paperback on Amazon.com, BN.com, and many others. 1001 Best Ways, Volume 4, is scheduled for release in November 2011.
###