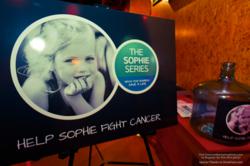 Thank you to all who donated to Sophie at the event and to all those will be donating.
San Diego, CA (PRWEB) November 18, 2011
At a recent private business networking event for online marketers, and professional business men and women helped raise over $2,300 for a fellow internet marketer's daughter, Sophie, who was diagnosed with cancer.
Sophie was officially diagnosed with a stage 4 bone cancer called Ewings Sarcoma on September 1, 2011. This type of cancer is extremely rare and is found in less than one in a million, and it is even more rare in young girls.
The InternetMarketingParty.com hosts events in the form of a fun party and business networking event, and was held at the BELO nightclub in San Diego California on October 26, 2011. Major internet marketing gurus and internet marketing celebrities made appearances at the event in order to help raise money for Sophie and her family.
Promoter David Gonzalez hosted the event with the intent to provide a comfortable, relaxed atmosphere where internet marketers and professionals in related professions could gather to promote cooperative sharing as well as raise money for a good cause.
"The event was a huge success!" said promoter David Gonzalez in an interview after the event had concluded. "People from all over the country were networking with one another, and we raised a significant amount of money for Sophie and her family."
In addition to the $2,300, one attendee pledged to donate an additional $1000 to Sophie's campaign.
After the fundraiser and networking had ended, an encouraging and thought provoking keynote speech was delivered to conclude the event by online continuity expert Ryan Lee. Ryan Lee left the audience with some ideas and solutions as to how to improve their current business strategies, as well as how to make a difference in the lives of others, such as Sophie.
For more information about Sophie's fundraiser, or to donate to this cause, visit http://www.nowsophie.com.
About Sophie
Sophie is a beautiful, inquisitive, and smart four-year-old girl who has recently been diagnosed with a life threatening illness known as Stage 4 Ewings Sarcoma which is a very deadly and aggressive form of pediatric bone cancer. Both of Sophie's parents are self-employed and had to give up their jobs and in order to be with their daughter and provide the constant care she requires.
Additional fundraising efforts are underway to raise money for Sophie's medical expenses and daily expenses, as both of her parents are unable to work. To donate to Sophie's cause, or to help fundraise for her medical and daily expenses, please visit http://www.nowsophie.com.
For media enquiries, please contact J Michael Palka
###