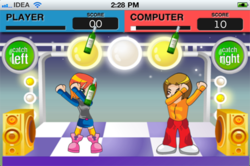 Fun for all Family
Miami, FL (PRWEB) November 18, 2011
Clover Games USA, a leading developer of mobile applications, today announced the launch of Crazy Games Pro, a new gaming app available for download in the App Store for just $0.99. At this price, this 10-in-1 game bundle is sure to hit the top of gift wish lists this holiday season and become a favorite amongst Apple mobile device users.
Just in time for the holidays, Crazy Games Pro is an addicting fun game bundle that allows you to play all ten games against the computer. Start with game one and work your way through, or choose which game you would like to play. Crazy Games Pro includes a combination of classic games and new innovative games. Included in this package is Dynamic Spark, Papa Can't Cook, Star Collector, Flower Bloomer, Super Dribbler, Fish Craze, Hockey Table, Junggler Mania, Tic-Tac-Toe Retro, and Join 4 Retro.
About Clover Games USA
Clover Games USA is a digital interactive entertainment and information company involved in business with their primary focus on developing mobile applications.
clovergamesusa(at)gmail(dot)com
Website: http://www.clovergamesusa.com
Facebook: http://www.facebook.com/CloverIOSGames
Twitter: @cloveriosgames
###