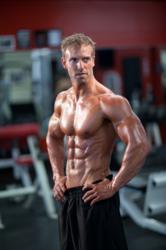 ...the gym, lifting weights, and taking Applied Nutriceuticals' supplements turned his life around and saved his physique.
Charlotte, NC (PRWEB) November 22, 2011
Applied Nutriceuticals' official sponsor athlete Ben Booker is now a featured athlete blogger on Lone Star Distribution, an online distributor of sports and nutrition supplements. Ben discusses his experiences of being in a car accident, undergoing surgery, but eventually reaching his fitness goals with the help of supplements by Applied Nutriceuticals. Some of these supplements include RPM and Drive, IGF-2, NeoVar and Lipo PM. The Ben Booker Stack is available on the AppNut website.
In a recent October article on Bodybuilding.com titled "Trading Booze for a Barbell: How Ben Booker Set Down his Glass and Lifted Weights Instead," Booker shares even more trials and tribulations prior to finding his true passion in bodybuilding.
Since adolescence, Ben suffered from alcoholism, which almost destroyed his marriage. In the article, he says the gym, lifting weights, and taking Applied Nutriceuticals' supplements turned his life around and saved his physique. The article also includes the typical Ben Booker workout with six days of lifting exercises, image demonstrations, sets and reps as well as his Monday through Friday meal plan.
To hear Booker talk about how fitness and training saved his life, watch him on YouTube. For more information on supplements, visit http://www.appnut.com.
About Applied Nutriceuticals:
Founded in 2006, Applied Nutriceuticals applies the most advanced technology and research techniques to continuously pioneer the most effective products in the supplement industry. Their mission is to develop, manufacture and market high-performance nutritional supplements that deliver safe, consistent and measureable results while never forgetting their primary purpose for existing: to serve their customers. Every product is made in their state-of-the-art cGMP facility and is tested by its own chemist and formulator to be packaged and shipped from the warehouse located in Charlotte, NC.
About Ben Booker:
Ben Booker was a 2010 BodySpace Spokesmodel winner and is an Applied Nutriceuticals Spokesmodel. He now uses CrossFit as a support system for his family.
About Lone Star Distribution:
Launched in 1997 by John Hoffman, Lone Star Distribution is a leading distributor of sports and nutrition supplements nationally and internationally.
About Bodybuilding.com:
Bodybuilding.com is an online supplement store and fitness community. It is the maker of BodySpace, which maintains profiles for inspirational male and female bodybuilders, and it is a forum for useful supplements, exercises and workout programs.
###