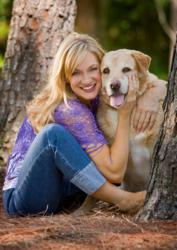 "Taking care of your pet responsibly impacts more than just our budgets. Pets are a great investment for saving money on our own health and wellness," writes Pampered Pets on a Budget co-author, Kristen Levine.
Tampa, FL (PRWEB) November 22, 2011
TAMPA, FL – In today's tough economy, the costs for pet health care, food and other supplies have risen just as human health care and food costs. Fortunately for pets, when times are tough, Americans tend to focus more on family—and since pets are family, they are often the last item a family is willing to cut from the budget. In the new book, Pampered Pets on a Budget: Caring for your pet without losing your tail (Lulu.com, November 2011), co-authors Jeffrey L. Barnes and Kristen M. Levine uncover new ways to save on the products and services pet owners need to take great care of their pets, without compromising their pet's health or the pet owner's pocketbook.
"If your pet budget is limited, saving on pet supplies and services is imperative," points out Levine, who brings over 20 years of "paws on" expertise as a popular columnist and pet lifestyle expert for national and local media including The Tampa Tribune, Petside.com, the nationally syndicated Daytime morning program, as well as contributor for USA Today and FoxNews.com. "But taking care of your pet responsibly impacts more than just our budgets. Pets are a great investment for saving money on our own health and wellness."
In Pampered Pets on a Budget, pet owners will:

Learn the benefits of the human-animal bond to your life and your pocketbook
Discover your pet's "must-haves" versus "nice to haves"
Understand the important, irreplaceable role of your veterinarian
Receive tips on how to save money during the lifespan of your pet
Obtain great information on pet adoption
Know the in's and out's of proper pet nutrition
Properly position yourself to give your pet the best lifestyle possible
Formerly the Director of Marketing for Florida Veterinary Specialists and NYC Veterinary Specialists, and widely know for helping veterinarians and other business realize success no matter the size of their organization, Barnes in intent on giving readers a starting point for the important—and very affordable—things they need to know about pet ownership. Barnes explains, "While no on book will answer all of a pet owner's questions, Pampered Pets on a Budget is intended to make pet ownership less costly and more of what it's supposed to be… FUN!"
For more information about the book, visit http://www.PamperedPetsOnABudget.com.
About the Authors
Jeffrey L. Barnes is a business advisor, consultant, and business intermediary, who strives to give veterinarians and business owners sound business advice in their day-to-day operations and represents them when they buy or sell their practice or business. His professional experiences with such respected companies as Aventis, John Deere, Merial, and the Sandler Sales Institute has afforded him the extensive sales, client service, and marketing knowledge that he now shares with countless veterinarians, practice managers, manufacturers, distributors, local, state, and national veterinary associations. Jeffrey lives in Tampa, FL with his wife and two dogs.
Kristen M. Levine's volunteer work led to a fifteen-year career as the Public Relations Director of the Society for the Prevention of Cruelty to Animals, Tampa Bay, Florida, where she played a critical role in promoting pet adoption and pet lifestyle education. Kristen's knowledge of pet lifestyle concerns and family dynamics coupled with her understanding of public relations led her to found Fetching Communications, the nation's first marketing and public relations firm wholly dedicated to serving the pet industry, in 2003. Having logged over 1,000 live national radio and television show appearances, Kristen is also a frequent contributor to pet and veterinary trade magazines nationwide. Kristen serves as Bissell Homecare's official pet spokesperson, educating pet parents about pet clean up solutions, as well as on the Toyota Pet Expert Team (P.E.T.), where she shares her knowledge to help develop programs to teach pet parents the importance of properly protecting and securing pets in automobiles. Kristen lives in Florida with her husband, dog and a pair of miniature donkeys.
Pampered Pets on a Budget is available from Lulu, http://tinyurl.com/6qks9lz and Amazon,
http://tinyurl.com/7g2mvg2.
LULU.COM · NOVEMBER 2011 · SIZE · 74 pages
Paperback · ISBN: 978-1-105-20415-9 · $15.99 · Kindle · ISBN: 978-1-105-20415-9 · $9.99
# # #