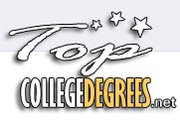 Top College Degrees is a unique one stop resource for anyone even considering advancing their education.
Staten Island, New York (PRWEB) November 22, 2011
The United States Census Bureau conducts a study of Educational Attainment by Median Income each year. This estimates a person's annual earnings based on education level. The most recent study conducted in 2010 states that the average male with a high school diploma will make an close to $30,322 and women make an average of $17,830 annually. A person with a Bachelors degree will make more than double that. The study shows the average male with a Bachelors degree will make $61,388 and the average woman will make even more at $41,132. That is an increase of over 50% for men and close to a 60% salary increase for women! The study also shows that even a small amount of college education can increase a persons annual salary by over 40%. With all the diverse educational options out there such as campus vs. online colleges, how can a prospective student find the school or program that is right for them? That is where the new and improved http://www.topcollegedegrees.net can help.
Top College Degrees (TCD) has been helping people find their perfect college and or programs of interest for over 5 years. Since its launch in 2006, http://www.topcollegedegrees.net has been an invaluable resource for students to search through the most prestigious colleges and universities to find the best fit for their lifestyle and career goals thus putting them in the best possible position for success. With it's new updated features and re-launch this past November, http://www.topcollegedegrees.com makes finding the right school even easier!
Whether a student is interested in a campus school or getting their degree online, TCD will help them navigate through hundreds of programs, with just a few clicks by allowing them to search by school, by subject area or by degree. It is a unique one stop resource for anyone even considering advancing their education, with not only a wealth of information on the best online schools, but also with important information on relevant educational topics. Students can visit our Learning Center which offers valuable information about online learning, choosing a school, types of degrees and other useful resources to help them to obtain free scholarships and financial aid.
TCD is also a top-notch resource for Schools, Universities and Marketing Agencies as http://www.topcollegedegrees.net has flourished into a highly successful educational portal providing an outlet to increase enrollment acquisition. Over the years clients have seen their enrollment rates increase dramatically, as TCD has successfully partnered thousands of prospective students to the school of their choice.
Top College Degrees' newly redesigned Web site features expanded content and streaming media and articles of interest in a permanent collection for the students to reference anytime. It's new dynamic look incorporates soft colors and graphics and has completely new navigational tools that are easy to understand and use. This improved navigation is intuitive and consistent, making it easier for visitors to find the school, degree or specialization that they are looking for and know where they are within the web site at all times.
The site is organized to provide quick and direct access to all of educational resources and if a user is not sure exactly where to look for specific information on schools, the newly developed site-wide search engine will help. Overall, our new look and feel appeals to a wide audience while providing immediate value to the visitor. This is about building relationships with just about every type of audience by making the site interactive and at the same giving visitors what they have come to expect. When overhauling the site, the designers kept it fun and simple with a user friendly approach.
Whether its a student looking for that perfect school or an advertiser looking to increase your schools enrollments, Top College Degrees is the first step on the path to success. Visit TCD today.
###