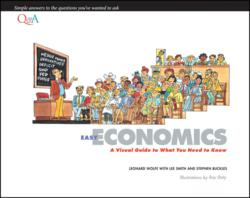 This book aims to bring readers up to speed in a way that entertains while it informs," says Smith. "Don't let the cartoons fool you into thinking the book is frivolous – the information is solid.
Hoboken, NJ (PRWEB) November 21, 2011
Now, perhaps more than ever, everyone needs a decent understanding of the economy to survive in this age of economic uncertainty.
In recent years, government officials including Chairman of the Federal Reserve Ben Bernanke have been very vocal about the importance of financial literacy to a stable and healthy economy. Though there seems to be a sense of urgency for financial literacy, there haven't been many straightforward guides available for the average person – until now.
In "Easy Economics: A Visual Guide to What You Need to Know" (Wiley, November 2011; Paperback and e-book, 978-1-1181-1806-1; $27.95), former colleagues at Fortune magazine, Leonard Wolfe and Lee Smith, economics consultant and Vanderbilt University professor, Stephen Buckles and illustrator Roy Doty bring readers entertaining and informative answers to many of the most frequently asked questions on the subject of economics. Unlike other economics books, "Easy Economics" isn't packed with reams of text or stacks of numbers – it's filled with informative illustrations and easy-to-understand content that makes exploring the subject enjoyable.
"Unfortunately, few of us have much of a grip on economics, even when we are well-informed on other matters, but economic literacy is vital to making sense of the world we live in. This book aims to bring readers up to speed in a way that entertains while it informs," says Smith. "Don't let the cartoons fool you into thinking the book is frivolous – the information is solid."
"Easy Economics" informs readers of the things everyone needs and ought to know about economics and does so through a collection of easy-to-digest questions and answers, illustrations and a glossary of key terms and phrases to help readers understand a complex economic world. Among the many questions it answers are:

What causes a recession? How do we end one?
How long can a bust last?
What caused the financial crisis of 2007–2009?
What is fiscal policy?
What is the difference between debt and deficit?
Is globalization good or bad?
What drives business cycles?
What happens next? How to anticipate the possible consequences of economic events
"No question is too dumb to ask and no answer should be too hard to understand," adds Wolfe. "Easy Economics provides answers that are as un-technical and jargon-free as possible without shortchanging or insulting the reader's intelligence, while making them more comfortable with many of the ideas that underlie today's important economic issues."
For an example of the Q&A format and related illustrations, please see several sample pages from one of the chapters in the book here.
About the Authors:
Leonard Wolfe spent more than 20 years at Time Inc. as an art director. He designed many of Time Life Books' most successful series, was associate art director of Fortune, founding art director of Time Inc's science magazine Discover and promotion art director of Time magazine.
Although they didn't know each other at the time, Leonard Wolfe and Lee Smith were both students at Yale together: Smith as an undergraduate, and Wolfe as a graduate student. Eventually they worked together at Fortune, where Wolfe was an art director and Smith a senior writer/editor who served as Fortune's bureau chief in both Tokyo and Washington.
Stephen Buckles, who served as the book's economics consultant, has had a distinguished career in economics education and currently teaches economics at Vanderbilt University.
Roy Doty, whose charming illustrations grace these pages, is considered one of this country's finest cartoonists, and his work has appeared in almost every major publication in America.
If you are interested in receiving a review copy of "Easy Economics" or an interview with the authors, please contact Melissa Torra, Publicist – WILEY mtorra(at)wiley(dot)com – 201-748-6834
For more information about Wiley's books, please visit our Press Room
Follow us on Twitter @WileyBiz for more information on our Business books and authors
###