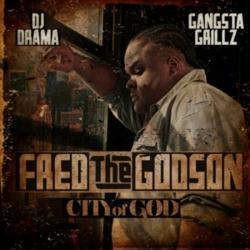 Miami, FL (PRWEB) November 19, 2011
Hip hop artist Fred the Godson recently released his mixtape "City of God." Coast 2 Coast Mixtapes presents the project, which is hosted by DJ Drama as part of his "Gangsta Grillz" series, in association with Datpiff.com. It is now available for free download. "City of God" features Fred the Godson on tracks with Diddy, Raekwon, Pusha-T, Meek Mill, Fatman Scoop, Cory Gunz, Remo The Hitmaker, K2, Tyler Woods, Mona L, Vado, Maino, and The Mad Rapper. Production is added by Remo The Hitmaker, F.R.E.A.K., Street Fabulous, Sarom, Charlemagne, Ebonikz, The Fr3shmen, iLL-Iteracy, Beat Butcha, Buda The Future & Grandz Muzik, Tony Troubles, Hiroshima, Mike Jerz & DDot, and Sunny Heights.
Fred the Godson began his ascent to stardom in the gritty South Bronx ghetto of New York. He spent his early days learning the harsh realities of life on 156th & Fox, an area submerged in drug wars that he struggled to evade. Instead, Fred sought refuge in his large family. Fred eventually enrolled at Monroe High School, but was affected by the temptations that led him away from his studies and into the streets. The combined pressures from his peers and home life prevented him from graduating. Fred had reached a low point in his life. One of the factors that allowed Fred to persist through the tougher times in his life was music. He recalls falling in love with music, and the hip hop genre more specifically, after seeing MC Hammer. He quickly gained an appreciation for the performance aspects of Hammer's work. At the age of fifteen, Fred also discovered that he had a special talent—he had an exceptional aptitude at working with words. He eventually combined this verbal propensity with his love for music, and found his niche. After becoming further enthralled with early hip hop acts, Fred began allowing this new love to penetrate every aspect of his existence. He began to put his life into the language of rap music, and so began his ascent to lyrical greatness.
Fred has now releases a number of mixtapes, gained the attention of industry heavyweights such as Jay-Z and Sha Money XL, won an Underground Music Award, appeared on BET's Rap City, and was named as part of XXL's 2011 Freshman class. In an industry so heavily populated with aspiring artists, each with their own claim to fame, Fred The Godson stands out as a superior and deserving artist.
"City of God" is available for free streaming and download at http://coast2coastmixtapes.com/mixtapes/mixtapedetail.aspx/fred-the-godson-city-of-god-hosted-by-dj-drama
###