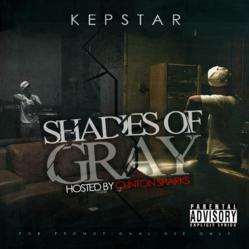 Miami, FL (PRWEB) November 20, 2011
Rap artist Kepstar recently released his mixtape "Shades of Gray." Coast 2 Coast Mixtapes presents the projects, which is hosted by Clinton Sparks. It is now available for free download. "Shades of Gray" features Kepstar on tracks with artists like Otis Clapp, Joe Budden, Devo D., Termanology, and T.J. Fox.
Kepstar moved around a lot when he was young, until finally finding a home in Maspeth/Ridgewood Queens, NY. He started writing rhymes when he was only eleven years old. Kep got into a lot of battles, but battling really wasn't his lane. When he was thirtenn, a local MC named Otis Clapp along with a local producer by the name of Millz, heard Kep and took interest. They both took him under their wings and showed him the ropes. When Kep turned fifteen, he got in with producer Mighty Fuzz Young. Fuzz helped add another dimension to his music, telling him to start writing more "quality" music if he wanted to be successful.
In late 2008, Kep hooked up with a new artist/producer, Mel-Supreme, as well as Otis Clapp once again and began working on his debut mixtape "The March," which was released in May of 2009 to great reviews. He then released an eight-track EP titled "Destroy & Rebuild" in February 2010, followed by "Best KEP Secret" in June 2010.Taking a year off to record and get his head together, Kepstar released "Shades of Gray" in September 2011. It seems Kep has finally grown into his own skin and found his sound as an artist. With "Shades of Gray" growing more popular by the day, it seems obvious that Kepstar will be making much bigger waves soon.
Clinton Sparks is a multi-platinum producer/songwriter for Lady Gaga, Akon, Pitbull, Ludacris, Rick Ross, Tyrese, T-Pain, The Game and The Notorious B.I.G; E! Entertainment's music correspondent; and DJ/host of the #1 rated worldwide terrestrial and syndicated/Sirius XM Satellite radio show, Smash Time Radio. He holds a DJ residency at Moon & Rain inside the Palms Hotel & Casino in Las Vegas and most recently Clinton was signed to Interscope Records where he will be releasing his debut album singing.
"Shades of Gray" is available for free streaming and download at http://coast2coastmixtapes.com/mixtapes/mixtapedetail.aspx/kepstar-shades-of-gray-hosted-by-clinton-sparks
###