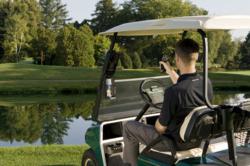 Madison, WI (PRWEB) November 21, 2011
Laser Link Golf, a leader in distance measurement technology and solutions for the golf market, announced today that the company has completed installation of its CartLink system on the courses of the Alamo City Golf Trail. CartLink is the company's cart-based laser rangefinder system that offers golfers the simplest, fastest, and most accurate way to measure distance on the golf course. Each installed course was outfitted with enough CartLinks to equip each of their golf cars, and enough SmartSticks to "Laser Link" each of their holes. In total, five golf courses were included in the installation, for a total of 320 "CartLinked" golf cars.
The installation includes Brackenridge Park, an A.W. Tillinghast design that opened in 1916 as the first eighteen-hole public golf course in Texas. Known to locals as "Old Brack", Brackenridge Park is home to the Texas Golf Hall of Fame, where golfers can stop to learn the rich history of Texas golf, and it is ranked #30 on Golfweek's 2011 edition of its Best Municipal Courses. Other courses included in the installation are:
Riverside Golf Course
Mission del Lago Golf Course
Willow Springs Golf Course
Olmos Basin Golf Course
"We're extremely excited to be partnered with the Alamo City Golf Trail," said Wayne Timberman, vice president at Laser Link Golf. "It is a terrific organization that strives to provide the best golf experience possible to its players, and we are proud to be included in their pursuit of excellence."
To learn more about the Alamo City Golf Trail, visit http://www.alamocitygolftrail.com.
About Laser Link Golf
Laser Link Golf is the producer of the Laser Link Distance System, the revolutionary distance measurement system designed specifically for golf. Laser Link Golf products include the popular QuickShot™ rangefinder, the Red Hot rangefinder, the SmartStick™ reflector system, and the Smarty™ flagstick reflector. The System is designed to speed up play and add enjoyment to the game. It is in use at more than 3,000 private clubs around the country, and several more daily fee courses. Additional products include the CartLink System – the affordable cart-mounted GPS alternative that golf courses can install without breaking the budget. CartLink puts the best distance measurement technology within arms reach for golfers. Laser Link Golf is based in Madison, WI, and is owned and operated by many of the same individuals that started SoftSpikes®. They are involved in Laser Link Golf for the same reason they got involved in SoftSpikes® – both are good for the game!
###