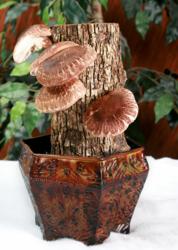 Growing mushrooms is in now. People appreciate growing fresh, organic, wholesome mushrooms in their natural habitat. Holiday sales soared last year with our 10" log featured in Martha Stewart's Whole Living Magazine Christmas Gift page.
Perkins, OK (PRWEB) November 23, 2011
More than just a folklore fantasy, the mushroom realm – the traditional home of fairies, elves and gnomes – is a world of Nature's magic that offers health and healing, eases sorrow and grief, and can bring joy to our personalities.
The Mushroom Lady Dr. Sandra Williams, Ph.D., should know. She and her husband Doug have been growing shiitakes at Lost Creek Mushroom Farm since 1985. "A shiitake log is a great gift for mushroom lovers, gardeners, and gourmets. You are giving a very unusual gift -- something that's great fun to grow, something healthy and delicious to eat, and something that nurtures us beyond its protein, vitamins and minerals."
"The Shiitake's magic," Williams continued, "is to stimulate uniqueness, help bring out our individual gifts and qualities. Shiitakes can heal grief, especially grief over the past – as from childhood – because chemically they trigger feelings of joy."
The mushrooms grow on hardwood logs such as oak or gum, in which the Williams' have planted spawn, the mushroom seed material. When the log is "shocked," immersed in non-chlorinated ice water, shiitakes pop out and and in 6-10 days are ready to harvest.
Logs will produce every two months for about four years. Yields increase as the log matures. They thive in room light and room temperatures.
All of Lost Creek's prices include shipping. Shiitake log kits start at $18 for a 6-inch 'Shroomie. The 10-inch log is $29.95, and the 12-inch is $36.95 (shipping is higher). The Ma & Pa Kit, with two 10-inch logs, will grow shiitakes every month by alternating the producing log. It sells for $49.95.
A brand new product, the Queen Anne, at $47.95, is a 12-inch kit that will enhance any decor. "It grows beautiful shiitakes in a beautiful container of embossed metal, European in style. It's just lovely," Williams gushed. "The supply is limited, and I expect we'll be sold out by Christmas."
Kits include: a ready-to-fruit hardwood log, instructions, and a recipe booklet. Logs over 10 inches are fully guaranteed to produce. 'Shroomies are not guaranteed due to shipping costs, "but they are the same as our larger logs," Williams explained.
A portion of sales is donated to the Williams' Mushrooms in Ghana Project, equipping a spawn laboratory and teaching West African mushroom growers to expand production and increase profits.
For lots of information and to order online, visit http://www.shiitakemushroomlog.com. Some items are available on Amazon.com at slightly higher prices. Phone orders and free brochure requests are available at 800-792-0053; mail orders at Lost Creek Mushroom Farm, PO Box 520, Perkins, OK 74059.
# # #