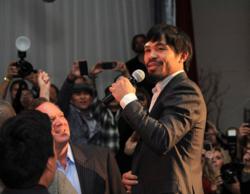 In Los Angeles on Tuesday night, Manny proved he is the people's champion with humility, style, class, and passion as he advocated for the Malaya House and Pacquiao Partnership for the Poor, Inc.
Los Angeles, CA (PRWEB) November 18, 2011
The streets were buzzing on Hollywood Blvd on November 15, 2011 as avid Manny "PacMan" Pacquiao fans gathered together at the Supperclub Los Angeles for the private event to honor the world-renowned boxing champion and support his ongoing fight against poverty. CieAura, the premiere distributor of Transparent Holographic Chip™ technology, highlighted their partnership with Pacquiao with the launch of the Manny Pacquiao Energy Bracelet, the first product in the company's Signature Collection. Proceeds from the event will go to CieAura's main charity, Malaya House in Tondo, Philippines and the Pacquiao Partnership for the Poor, Inc.
As Pacquiao entered the Supperclub, the party was already in full swing, with press, celebrities and supporters eagerly anticipating his arrival. Celebrity attendees included Edward James Olmos, Lorenzo Lamas, Rudy Tomjanovich, Kyle Massey, Billy Blanks, Stephen Bishop,Tony Dovolani, Amin Joseph, Paul Ben Victor, Karimah Westbrook, Jennifer Woods, Teddy Volynets, Max Chmerkovsky and Val Chmerkovsky, Ryan Cleary, Ruffa Gutierrez, Windell Middlebrooks, Devanny Pinn, Shee Dueitt, Erin Murphy, David Dossett, Giles Marini, Carlos Gallardo, Edi Gathegi and Geno Segers. As the PacMan took to the stage, he greeted the excited crowd, thanked them for coming and stated, "CieAura and Manny Pacquiao will knock out poverty!"
The Manny Pacquiao Energy Bracelet utilizes CieAura's proprietary CX2 holographic chip technology to optimize athletic performance naturally. The company's CX2 chips contain no chemicals or drugs, are non-transdermal and have been openly promoted by 4-Time Olympic Gold Medal Winner and now part-owner of the LA Sparks, Lisa Leslie, pro football player, Colt McCoy and now the world's first and only 8-division and WBO Welterweight World Champion, Manny "PacMan" Pacquiao.
CieAura CEO and Founder, Ken Rasner, President, Jerry Yerke, other management team members, as well as the company's salesforce leaders were also strongly represented at the event. Yerke, who has worked closely with Team Pacquiao, says, "CieAura is honored and proud to be partnered with Manny Pacquiao. Manny is the ultimate spokesman for our company and our retailers in over 50 countries. We knew from the first time we met, that he is passionate about the health and wellbeing of people not only in the Philippines, but around the world. Manny does not just talk about his fight against poverty, he lives it daily. In Los Angeles on Tuesday night, Manny proved he is the people's champion with humility, style, class, and passion as he advocated for the Malaya House and Pacquiao Partnership for the Poor, Inc."
About CieAura, LLC – Creating Total Balance for Life. CieAura is a leading start-up direct sales company, launched in March 2010 and currently distributing CieAura Transparent Holographic Chips™ in 54 countries around the world. Utilizing 3000 years of science in a 21st century delivery system, CieAura's Transparent Holographic Chips™ are computer-programmed holograms based on sophisticated combinations of homeopathic processes. When placed along sensitive acupuncture meridian points, results such as improved energy and stamina, deeper, more complete rest, relief from discomfort, naturally enhanced athletic performance, weight control and other positive reactions occur, depending on the program formula of the Holographic Chip and the related placement. CieAura provides opportunities for the everyday person to become Independent Retailers with exclusive rights to market and distribute revolutionary products at minimal cost and with competitive compensation incentives. CieAura is a promotional partner and distributor of officially licensed products by the NBA and WNBA.
To learn more about CieAura, visit: http://www.CieAura.com and join the conversation on Facebook (http://www.facebook.com/cieaura.llc) and Twitter (http://www.twitter.com/cieaura).
###