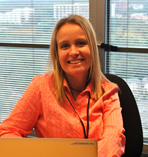 I am very thankful for the incredible opportunity to lead the Hannon Hill team, and I'm particularly excited about our product roadmap and our upcoming release of Cascade Server 7.
Atlanta, GA (PRWEB) November 21, 2011
Hannon Hill Corporation, creator of Cascade Server CMS, the premier Enterprise Content Management System for Higher Education, has promoted Kat Liendgens to serve as the company's new Chief Executive Officer. She will succeed Hannon Hill's founder David Cummings, who will remain the company's Chairman.
Liendgens, with extensive experience in the government, non-profit, and education sectors, most recently served as the Chief Operating Officer of Hannon Hill. In this role, she was responsible for leading the company in day to day operations to reach its primary goal of providing strategic web content management software (CMS) with an emphasis on personalized customer service and leading technology. As CEO, she will also be responsible for the strategic vision and execution of Hannon Hill as well as for driving the culture and values of the company—Openness and Transparency, Fostering Community and Exceeding Expectations.
Liendgens initially joined Hannon Hill in 2009 and quickly assumed more responsibility within the company. Immediately prior to joining Hannon Hill, Liendgens was the IT Manager at the Atlanta Regional Commission. She also previously served as Associate Dean of Information Technology at American Intercontinental University and as a consultant with Modis IT, where she contracted with a government organization.
"Kat has done an amazing job as COO introducing a number of changes and projects. The CEO role is well deserved." said David Cummings, Hannon Hill's Founder and Chairman, who made the announcement on Friday, November 11th. David led the company as CEO for almost eleven years.
Regarding her new position, Liengens said, "I am very thankful for the incredible opportunity to lead the Hannon Hill team, and I'm particularly excited about our product roadmap and our upcoming release of Cascade Server 7. David and all my other team members at Hannon Hill, as well as our fantastic customers, make it a pleasure to come to work every morning."
Liendgens has earned several awards of distinction in her career, including CEC's Top Ten Educator of the Year, and she has presented on various topics at multiple technology events, including "Making a Case for IT", "Agile Development", and "Social Media meets Sales", and "Content Strategy Considerations". Liendgens studied Modern Languages at the Westfaelische Wilhelms Universitaeat Muenster in Germany and English and Psychology at Georgia State University. She earned her Master's Degree in Information Technology and is a certified Java programmer.
About the Company
Located in Atlanta, GA, Hannon Hill is the creator of Cascade Server, the premier enterprise content management system for higher education. Designed with colleges and universities in mind, Cascade Server gives higher education, government, technology, healthcare and nonprofit organizations the freedom to manage their web presence with ease and cutting edge technology. It is engineered for any network environment, provides a content contributor-friendly interface, and provides deployment flexibility, robust multi-site management and a fast implementation.
Since its founding in 2001, Hannon Hill solutions have been utilized and trusted by over 160 higher education organizations including Emory University, The College of William and Mary, Northwestern University, University of Saskatchewan, and Texas A&M University, among many others. For more information about Hannon Hill and all of its products, please visit http://www.HannonHill.com or contact the company directly at 800-407-3540.
###