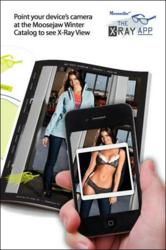 Madison Heights, MI (PRWEB) November 21, 2011
Moosejaw, the outdoor retailer famous for its quirky, irreverent marketing, has created a new X-Ray Vision app that allows you to see their catalog models nearly naked.
The free augmented reality app interacts with the Moosejaw winter catalog. The Moosejaw X-Ray App uses your device's camera to create an 'X-Ray Vision' experience that lets you see what models in the catalog are wearing underneath their clothes.
"Our goal at Moosejaw is to always create a unique and notable customer experience. Something the folks who shop with us will want to tell ten friends about. The X-Ray catalog and X-Ray App are designed to create an interactive, non-sensical experience that breaks the barrier between our print and digital brand" says Gary Wohlfeill, Creative Director at Moosejaw. "It's also very much about seeing people in their underwear, something we're constantly prioritizing at Moosejaw."
Customers will be able to use the app with the printed catalog and in-shop signage as well as the digital version of the catalog on their laptop or tablet. The app is available for free download in Android and iPhone app stores. To download the app for your smart phone, visit moosejaw.com/xray. To check out a video of the app or to request a catalog go to moosejaw.com/xraypr
Past Moosejaw campaigns included food fights, prisons and bugs. There was even a catalog all about the Moosejaw CFO.
"Our goal at Moosejaw has always been to sell the best stuff in the world and have as much fun as possible while we do it. Our intent with any Madness campaign is to show our customers something different, wacky and not take ourselves too seriously," says VP of Marketing Eoin Comerford.
At Moosejaw we sell the best outdoor gear gear and apparel in the world and have the most fun possible while doing it. Our goal is to engage customers with our unique brand voice and a little youthful enthusiasm. We call it Moosejaw madness. Moosejaw offers products from The North Face, Arc'teryx, Patagonia, Mountain Hardwear, and Black Diamond as well as under its own Moosejaw brand. The company serves a diverse customer base including serious outdoor enthusiasts, active individuals pursuing an outdoor lifestyle, and high school and college students who are passionate about the Moosejaw brand. Moosejaw operates through Moosejaw.com as well as seven retail stores.
###