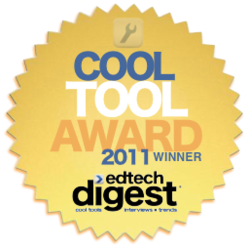 "Time To Know's holistic solution facilitates great classroom teaching by providing teachers the latest technology and best curriculum resources to enhance student success." Louise Dube, Time To Know vice president of marketing
New York, NY (PRWEB) November 18, 2011
Time To Know, a complete online teaching and learning solution for one-to-one computing classrooms, has earned two awards from EdTech Digest as part of its 2011 awards program. Time To Know was chosen both as a top content provider and as a leader in emerging technology solutions.
EdTech Digest editors selected winners in categories ranging from mobile solutions to learning management systems from a large field of entries, representing companies that have transformed education through technology resources.
"Time To Know's holistic solution facilitates great classroom teaching by providing teachers the latest technology and best curriculum resources to enhance student success," said Louise Dube, Time To Know vice president of marketing. "We are pleased to be recognized by EdTech Digest."
Time To Know is a teacher-led, online curriculum system that features a Digital Teaching Platform designed for one-to-one computing classrooms. With the teacher at the center, Time To Know engages students with interactive multimedia lessons, individualizes instruction, and promotes the development of critical thinking skills. The Time To Know solution includes a complete professional learning program focused on data-driven teaching practices using Time To Know's powerful support and instructional tools.
"Innovation in education is exploding," said Victor Rivero, editor-in-chief of EdTech Digest. "There has never been so much activity in this emerging sector. Companies are hard at work every day transforming education through technology, disrupting old models, shifting paradigms and making change happen now."
The Time To Know Digital Teaching Platform is used in fourth and fifth grade classrooms in New York and Texas, with expansion underway. The Time To Know digital curriculum is aligned to the Common Core Standards for math and English language arts. Research from schools using Time To Know has shown a dramatic increase in students' math reasoning and critical thinking skills.
About Time To Know
Introduced in Israel in 2007 and launched in the United States in 2009, Time To Know is a holistic teaching and learning solution for one-to-one computing classrooms. In addition to the Digital Teaching Platform, Time To Know includes comprehensive professional learning and technology support to maximize teacher effectiveness and student achievement. The Time To Know math and English language arts curriculum is aligned to the Common Core Standards. Time To Know is implemented in 170 classrooms in Texas and New York, and is a part of New York City's Innovation Zone (iZone) program. In addition, Time To Know pilots are underway in Singapore, with 400 third grade students using its math program. For more information, please visit http://www.timetoknow.com or call 888.559.6560. Follow us on Twitter and Facebook.
About EdTech Digest
EdTech Digest celebrates all the latest technologies moving education forward, delving deeper into the stories of the people behind the technology to discover what truly drives them to conceptualize, create, develop and deploy their ideas to the masses. The EdTech Digest Awards Program recognizes the best and brightest people and transformative technology products and services in education. For more information visit: http://www.edtechdigest.com.
###