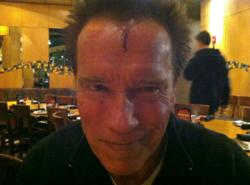 Los Angeles, CA (PRWEB) November 19, 2011
ExploreTalent, a premier online social-network for industry insiders, announced today a new blog on their celebrity news site, "Arnold Schwarzenegger Shows Off Head Injury." Explore Talent is a professional site that connects actors, models, musicians and dancers in the United States. The company posts blogs on their site, so that members can stay up to date on celebrity news. The online community has been responsible for new collaborations and business ventures in entertainment. Explore Talent is responsible for countless models and actors getting acting auditions and modeling auditions through casting calls. Explore Talent also helps aspiring entertainment professionals further their careers with contests that showcase their profiles to members of the social media community. Furthermore, the Explore Talent site features celebrity videos, exclusive interviews with actors, actresses, and musicians, such as Joan Rivers, Akon and T-Pain.
The blog details that movie star turned California governor turned movie star, Arnold Schwarzenegger, tweeted a photo of a gash he got on his head. The cause of the injury? It turns out, it's not from a fight with ex Maria Shriver, who filed for divorce from Arnold this year, or his former nanny, Mildred Baena, whose affair and child with Arnold led to his divorce from Shriver. No, it seems that Arnold got the injury on the set of his newest film.
Schwarzenegger, 54, is starring in the movie, the Last Stand, which is being filmed in Albuquerque, New Mexico. While reps for the actor, and from Lionsgate, the studio releasing his film, remained mum on the cause of the gash, Arnold tweeted, "Got a little banged up on set today. Thanks to the medical staff who got me back in action an hour later!"
Explore Talent's proprietary software and vast infrastructure is the most advanced entertainment-based technology of its kind. The site's popularity is based on the fact that there are many ways for talent to network, make friends and connect with other industry players, participate in wide variety of contests and earn prizes for being active on the site. The easy access to a pool of six million members attracts industry players who are posting every month about 50,000 new auditions and job openings which is 30 times more than any other site.
For more information about this release or Explore Talent, go to http://www.ExploreTalent.com.
# # #