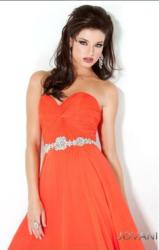 New York, NY (PRWEB) November 22, 2011
There's nothing like a high school prom. At any age, a woman never forgets the first (for many) magical moment in her life. It is that "Cinderella moment" that brings fairytale to real life when a girl feels beautiful and confident just as a princess. In creating this special moment it's all about the dress. From cocktail dresses to beaded ball gowns, prom dresses can come in all shapes and forms. Jovani's new dress collection for 2012 features a wide variety of styles and trends that will surely create an everlasting memory.
These days, it seems that the hectic schedules of aching fashonistas doesn't afford much time for perusing the collections at various boutiques and department stores. That is why Jovani Fashions continuously strives to simplify the way glamorous women all over the world shop, by being able to browse through all of the dress collections on http://www.Jovani.com.
Large appliqués, vibrant patterns, 3D proportions and metallic details, just name it and Jovani has it. With 30 years of experience in the prom dress industry, no other designer has cultivated a name and reputation quite like the world-renowned brand. That's because there's something for every woman and girl. Extraordinary silhouettes in all sizes 0-24 and plus sizes, is a rarity when it comes to designer couture dresses. These sought after styles come in a selection of hues and shades, which effortlessly ties in with this season's top trends.
If there's one thing we've learned from the runways of the past Fall Fashion Shows—are that embellishments, soft colors such as cream or beige, and vivid jewel tones are in. For the next few months, the racks will be adorned with sequins, rhinestones, clean lines and even piped ruffles. Not to mention, alternating color and fabric blocking. Look no further than http://www.jovani.com to answer all those fashion needs. The possibilities are endless when those fashion inhibitions fade and you are free to explore the different styles and prom dresses that Jovani has to offer. Simply browse through the latest collection of prom, short dress and evening dresses to find that "Cinderella" look.
Company Profile
Jovani is a family-owned fashion house that designs and manufactures elegant women's evening wear. From prom dresses, to bridal dresses, pageant gowns, couture and short dresses, Jovani has a collection for every formal need. As an innovator in women's evening attire, Jovani's designer dresses are both fashion-forward and timeless. The eye-catching styles are unique and versatile, and are a favorite among Hollywood's elite. On the red carpet and inside the pages of high-fashion magazines, Jovani's designs make a glamorous statement wherever they go.
Written by: Lianne Gourji
Contact: Nazy Rafaeil
Phone: (212) 279-0222
# # #