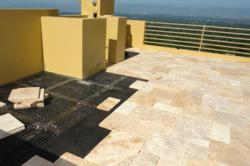 Special Discount Pricing on PierdeX® through end of 2011!
Cheyenne, Wyoming (PRWEB) November 20, 2011
DexSystems® manufacturers and distributes a structural outdoor flooring underlayment system. The components of this Outdoor Floor System™ are used by DIY customers and Contractors to support thin gauged stone, porcelain tile or paver grade stone placed on traditional wood joist framed decks or over waterproofing on rooftop terraces.
DexSystems® inventories all of the component parts for a variety of application packages. These include the GratedeX® and PierdeX® underlayment panels, Bite-Tite® stainless steel fastening system, Ped-Tite® pedestal components, Weld-Tite® panel glue and Hold-Tite® stone and tile adhesive. Based on the application needs, Outdoor Floor System™ packages are assembled and shipped direct to customers from January through December.
As the 2011 sales season enters the middle of the 4th quarter, DexSystems® is extending a special price discount on all PierdeX® Outdoor Floor System™ packages. Potential customers preparing for the construction of a rooftop terrace over waterproofing will want to consider this limited time price savings. The discount savings is a $1.00 per square foot price reduction with a maximum savings of $1500.00.
Weather it's to be constructed before the end of 2011 or the end of 2012, this is a savings worth taking advantage of. Since the PierdeX® is UV stable and structurally stable without a surface finish, it can be purchased and installed in advance of placing the stone, tile or paver finished flooring.
###