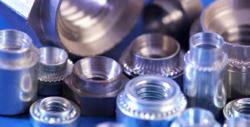 "AFT Fasteners is a natural fit for our distribution plans in the United States. As we grow market share in the US, we will rely on quality distributors such as AFT and their reliable sales staff."
– Alan Bate, TR Fastenings Managing Director.
Dallas, Texas (PRWEB) November 21, 2011
TR Fastenings was founded by Mike Timms and Mike Roberts in the United Kingdom in 1973. The TR Hank® Self Clinch Fasteners brand was established in 1988 and has since grown to be globally distributed for industries that range from mobile phone manufacturing to aircraft manufacturers. Self clinch fasteners are widely used as a fastening product when manufacturing thin sheet metal intensive products. These fasteners provide strong threads in sheet metals, require no "tapping" and provide high push-out and torque resistance. These are fasteners that are excellent when the manufacturing process does not provide easy access to the gripping side of a fastening point.
AFT Fasteners is already a trusted international source for numerous products, and they are excited to add these internationally certified self-clinching products to their expansive line up. This partnership creates a global force to compete against manufacturers like Captive Fastener Corporation and Penn Engineering. With a focus on product quality and availability, AFT and TR Fastenings will provide a wide variety of high quality, self-clinching fasteners at a competitive price. For more information about AFT Fasteners, TR Fastenings or self-clinching fasteners – please contact AFT Fasters at (877) 844-8595, toll free in the US.
###