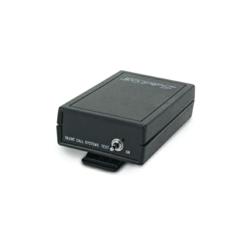 The Vibra-Call Receiver provides more independence and freedom for people who are Deaf/Blind.
Waterford, Michigan (PRWEB) November 21, 2011
Silent Call Communications has a special body worn alerting device that can make a world of difference for people who are Deaf/Blind. The updated Vibra-Call Receiver looks much like a pager and can clip to a person's waistband or be put in their pocket. This receiver has a much better vibration output than an average pager. The receiver can be connected to a Silent Call Doorbell, Sound Monitor, Smoke Detector (fire safety), Carbon Monoxide Detector, Weather Alerting System with radio, and a telephone. When one of these transmitters is going off or the phone is ringing, the receiver will produce a predetermined vibration output, making the person wearing it aware of an alert.
The Vibra-Call Receiver is a wonderful product that can really help someone who is Deaf/Blind. It provides more independence with the capability of predetermined vibration outputs for each type of alert. A person can easily know which transmitter is sending an alert and be aware of where their attention is needed. A person can have the comfort in knowing that although they are Deaf/Blind, they can still be aware if a fire alarm is going off in their home, bad weather, someone at their door, their child awake or crying, and if their phone ringing. Silent Call Communications provides a variety of life enhancing systems to be beneficial and helpful to others. The products are designed to provide a convenient way for someone to be alert without missing out on life.
Silent Call Communications is a Waterford, Michigan based company that provides tactile and alerting devices to organizations, companies and individuals alike. Since 1985, the Silent Call Communications Corporation has taken a simple philosophy of personal communications by means of electronic devices and developed an exciting product line. These products have revolutionized the means by which people who are seniors, hard of hearing, deaf or deaf/blind may lead more convenient, safe lives. For more information about Silent Call Communications and products, please visit http://www.silentcall.com or call (800) 572-5227 (Voice or TTY).
Ubetcha Marketing, 9007 Crowne Springs Circle, Ste. 106, Louisville, KY 40241
###