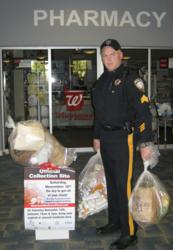 Berkeley Heights, NJ (PRWEB) November 21, 2011
Summit Medical Group(SMG) participated in the American Medicine Chest Challenge, Saturday, November 12, 2011 by holding its second annual collection event at its Diamond Hill Road campus. The community was invited to clean out their medicine chests and safely dispose of unused and expired prescription and over-the-counter medications. Berkeley Heights Police Detective Joe Williams was on hand to supervise the collection of more than 100 pounds of such medications. The collection was turned over to the DEA for proper disposal.
ABOUT SUMMIT MEDICAL GROUP
Summit Medical Group (SMG) is the largest privately held multispecialty medical practice in New Jersey. SMG has pioneered information technology advances in health care with its early adoption of electronic health records and e-prescribing. With more than 270 highly qualified healthcare providers, it is one of the most unique health care models in the state. SMG has an award-winning customer service program and NJBiz magazine has named it one of New Jersey's "Fifty Fastest Growing Companies". SMG treats more than 55,000 patients per month at its main campus in Berkeley Heights as well as its satellites in Berkeley Heights, Morristown, Millburn, Short Hills, Springfield, New Providence, Warren, and Westfield. As one of the East Coast's premier multispecialty groups, SMG has provided exceptional primary and specialty care since 1929.
# # #