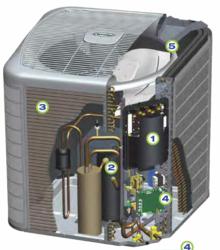 Yorktown, VA (PRWEB) November 22, 2011
Using the latest technology from Carrier Corp., residential heating, ventilation and air-conditioning (HVAC) systems have become infinitely smarter than ever before. Carrier, a unit of United Technologies Corp., has redesigned its programmable digital control for the new-generation Infinity System, giving the homeowner greater control and more ease-of-use for their heating and cooling system. With its state-of-the-art control unit, the complete system improves homeowner satisfaction by providing longer heating and cooling cycles at lower fan speeds for energy savings and more consistent temperatures throughout the home.
The Infinity System is the first HVAC system to use a single control to integrate and manage all six-comfort functions: temperature, humidity, airflow, ventilation, indoor air quality and zoning.
The system includes the Infinity Control, a single control that allows for easy management of the entire system, with a distinctive, easy-to-read, large backlit display. The control also offers enhanced communication capabilities, such as advising when it's time for regular maintenance and filter changes.
"With the Infinity System and the Infinity Control, Carrier has taken residential comfort to an entirely new level of innovation, intelligence and functionality," said Bob McDonough, president Carrier Residential and Light Commercial Systems. "Not only is it the easiest programmable unit ever, providing homeowners with ENERGY STAR® certified efficiency, but the exclusive automated diagnostic features are like having a service technician built into the system – one who can call for back-up."
Total Comfort and Control: Complete Genius
A complete Infinity System is comprised of Carrier's top-of-the-line, Infinity variable-speed furnaces, the Infinity Control, and either an Infinity heat pump or an Infinity air conditioner which uses non-ozone-depleting Puron® refrigerant, making it an environmentally-sound air conditioner. Variable-speed technology means Infinity systems deliver quiet, efficient and consistent year 'round comfort.
The Infinity Control doubles as a service tool to maintain optimum performance. When maintenance issues arise, the control will provide an alert and display the phone number of an authorized Carrier dealer. "The Infinity Control makes service easier and more efficient by providing alerts in English and not codes," said [dealer name of dealership name]. An optional Remote Access Kit will allow the system to contact the dealer when service is required, permit remote troubleshooting and give homeowners remote control of the system via the Internet or a telephone.
Infinity System options that improve overall comfort and air quality include zoning, humidifiers, ventilation systems, air cleaners and ultraviolet germicidal lamps. Hot and cold spots within a home can be eliminated through zoning, which is easier than ever with the Infinity System and Control. Up to eight different zone settings can be managed by the system.
"The Infinity System gives homeowners peace-of-mind with regard to system operation, energy savings and maintenance, and comfort like you never thought possible," said McDonough.
About A/C Masters, Inc.
A/C Masters, Inc. located in Yorktown, VA, is a factory authorized dealer of Carrier heating, air-conditioning and refrigeration solutions. They install and service new heating and cooling units in Williamsburg, Newport News and throughout the Virginia Peninsula. Visit http://www.acmasters.com to learn more.
###