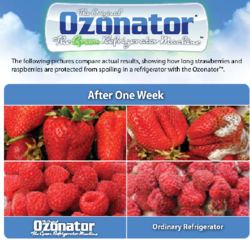 The Ozonator, or what people call the Green Refrigerator Machine,helps your refrigerator act like a 21st century refrigerator. The Ozonator doesn't allow mold and fungus to grow keeping leftovers fresher longer," said Russ Karlen.
(PRWEB) November 20, 2011
Brittany Karlen Messmer and Russ Karlen, co-founders of the Ozonator™ the Green Refrigerator Machine™ that replicates the Ozone in the refrigerator, the earth's most powerful disinfectant, to extend life span of perishable foods, announced that today in the spirit of keeping the Thanksgiving Holiday green and in the 21st Century, they are sharing their leftover holiday soup recipe, Ozonator style.
According to co-founder, Russ Karlen, the average household throws out 180 lbs. of produce per year due to the spoilage of uneaten refrigerated foods. He says that even with the big emphasis on green living, people are still using antiquated refrigerator technology that isn't helping make the most of family food dollars. He says that when blueberries and strawberries only last about 3 days in a refrigerator before mold and fungus start growing, it's no wonder that after a couple of days people throw those delicious holiday leftovers away.
"When you have an Ozonator, or what people call the Green Refrigerator Machine, your refrigerator starts acting like a 21st century refrigerator. The Ozonator doesn't allow mold and fungus to grow and purifies the refrigerator every 4 hours for 10 minutes. The Ozonator is a game-changer," said Russ Karlen, co-founder. "With no mold and fungus your leftover turkey, chicken, steak, and ham lasts 5 - 10 days. After a week you can break the carcass of the turkey or chicken and boil the meat off the bones and make delicious soups."
The award winning Ozonator™ popularly known as the Green Refrigerator Machine™ conceived by then college student, Brittany Karlen Messmer and father Russ Karlen, is a compact (6"x 5") battery operated device that is placed in the refrigerator. The Green Refrigerator Machine has won several awards for its green ability to provide families an inexpensive solution to expensive refrigerator waste.
"Our Green Refrigerator Machine provides a perfect cost-saving, green solution holiday gift," says Brittany Karlen Messmer. "The Ozonator extends the life and flavor of a foods including the fresh fruits and vegetables which decay most rapidly and are often the most expensive to purchase fresh."
The Ozonator, The Green Refrigerator Machine not only extends the life of food, saving consumers over $500 per year, it also offers many other benefits like the elimination of all odors in the refrigerator, i.e.: fish, garlic, onions, etc. The Ozonator replicates the earth's Ozone by oxidizing and neutralizing ammonia and ethylene in your refrigerator to delay the onset of mold and decay in perishable foods.
THANKSGIVING OZONATOR SOUP by Russ Karlen
Use the Ozonator in your refrigerator to keep your Thanksgiving leftovers like your bird carcass and vegetables for this lovely Thanksgiving Leftover Ozone Soup. http://www.ozonator.com
Cook turkey carcass in Dutch oven -- break into pieces in 8 cups of water.
Bring to a boil and simmer on low for 1 1/2 hours.
Separate bones and turkey meat.
Chop turkey into small pieces.
Keep broth and add:
Any Thanksgiving vegetable leftovers
Plus, 1 onion, diced
2 carrots, sliced
2 stalks celery, cut up
6 crushed peppercorns
Cook for 45 minutes on medium heat.
Serve turkey soup as a clear broth or add some cooked noodles or rice.
Write name of soup and date on the bags. Example: Turkey/Noodle 11/11/11
Seal bags and freeze.
Makes 10 bags of soup to freeze.
Please visit http://www.greenrefrigeratormachine.com for more details!
The Ozonator™ popularly known as The Green Refrigerator Machine™ promotes a clean environment inside your refrigerator. Produced in sufficient quantities, ozone is known to oxidize, and thereby destroy, many harmful germs and bacteria, molds, and yeast that can be transmitted from one family member to another by hand contact on foods, food containers and other hard surfaces inside your refrigerator. The Ozonator™ has been proven by a leading independent laboratory to produce ozone in safe quantities, reduce orders, and extend the shelf life of refrigerator stored perishable foods. The Green Refrigerator Machine recently took first place as Best of Expo at the New Living Expo in San Francisco and placed among the top five in the New Products Category at Go Green Expo in Los Angeles. Priced at $29.95, with the savings you get from food staying fresh longer, it will pay for itself within two months. For each Ozonator sold, a percentage is donated to The Iacocca Diabetes Foundation, dedicated to the advancement of diabetes research. To order, please visit, http://www.ozonator.com or call 702-363-5343.
###