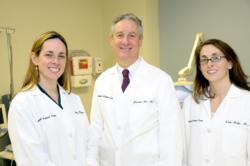 Berkeley Heights, NJ (PRWEB) November 23, 2011
The Medical Oncology Team at Summit Medical Group was honored by the American Cancer Society, Metro NJ Region, at its Diamond Ball on Saturday, November 19, 2011, at the Westminster Hotel in Livingston, New Jersey.
Summit Medical Group oncologists Lisa A. Mills, M.D., Jennifer G. Reeder, M.D., and Michael B. Wax, M.D., were recognized for their work in promoting the importance of cancer screenings and follow-up appointments, educating patients about what to expect from cancer treatment, and providing exemplary patient care.
Lisa A. Mills, M.D., received her B.A. in Biology at the College of the Holy Cross, Worcester, Mass., in 1996. In 2001, she received her Doctor of Medicine from SUNY Downstate College of Medicine, Brooklyn, N.Y. She completed her residency in internal medicine at Long Island Jewish Medical Center, New Hyde Park, N.Y., from 2001 to 2004. From 2004 to 2007 she completed a fellowship in hematology and oncology at UMDNJ, Robert Wood Johnson Medical Center, New Brunswick, N.J. Dr. Mills has special interest in bleeding and clotting disorders, hematologic malignancies and breast cancer. In addition to her position at Summit Medical Group, Dr. Mills is a member of the Memorial Sloan-Kettering Cancer Center Consultant Medical Staff. She is listed in New Jersey Monthly's "Top Doctors."
An advocate for women's health, Jennifer G. Reeder, M.D., has delivered local, regional, and national presentations on a variety of topics in women's health and oncology, including breast cancer. Dr. Reeder received her B.A. cum laude in molecular biology at Princeton University, She earned her M.D. at University of Medicine and Dentistry of New Jersey-Robert Wood Johnson Medical School in Piscataway, N.J. Dr. Reeder completed her residency in internal medicine at the University of Pittsburgh School of Medicine, Pittsburgh, Pa. She then earned her fellowship in hematology/oncology at University of Pittsburgh School of Medicine. Dr. Reeder is a member of the American Medical Women's Association, American Medical Association, American Society of Hematology, and American Society of Clinical Oncology
Michael B. Wax, M.D., received his B.S. from the University of Pittsburgh, Pittsburgh, Pa., and his M.D. from the Medical College of Pennsylvania, Philadelphia, Pa. He completed residencies with Hahnemann University Hospital and the Hospital of the Medical College of Pennsylvania, both in Philadelphia. Dr. Wax also completed a Fellowship in Hematology-Oncology with the University of Washington/Fred Hutchinson Cancer Research Center, Seattle, Wash. He is board certified in medical oncology and internal medicine. Additionally, Dr. Wax is Assistant Professor of Medicine at Mt. Sinai School of Medicine. He is a member of the Cancer Institute of New Jersey and the Eastern Cooperative Oncology Group. Dr. Wax is listed in Castle Connolly's "Top Doctors in the NewYork Metro Area" and New Jersey Monthly magazine's 'Top Doctors."
Drs. Mills, Reeder, and Wax have expertise in all aspects of cancer care, including the surgical treatment of cancers as well as therapies for cancers such as leukemia and lymphoma. In addition to working with a patient's primary care physicians and specialists, they partner with Summit Medical Group's Breast Care Center, a certified Quality Center of Breast Care Excellence, to help patients manage the physical and psychological effects of cancer, and educate patients about healthy lifestyle habits.
ABOUT SUMMIT MEDICAL GROUP
Summit Medical Group (SMG) is the largest privately held multispecialty medical practice in New Jersey. SMG has pioneered information technology advances in health care with its early adoption of electronic health records and e-prescribing. With more than 270 highly qualified healthcare providers, it is one of the most unique health care models in the state. SMG has an award-winning customer service program and NJBiz magazine has named it one of New Jersey's "Fifty Fastest Growing Companies". SMG treats more than 55,000 patients per month at its main campus in Berkeley Heights as well as its satellites in Berkeley Heights, Morristown, Millburn, Short Hills, Springfield, New Providence, Warren, and Westfield. As one of the East Coast's premier multispecialty groups, SMG has provided exceptional primary and specialty care since 1929.
###