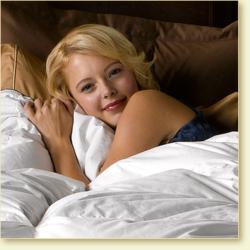 Seattle, WA (PRWEB) November 21, 2011
Luxury down bedding brand Pacific Coast® has announced its annual Black Friday special. Starting November 23 customers can order discounted down throws starting at just $19.99. Customers can save up to $70 on luxurious 400 Thread Count Down Throws. This special Black Friday offering will end on November 27th.
"We're starting the sale a few days before Black Friday to give our customers a little jump start on their holiday shopping," says Elizabeth Smith, Director of Online Marketing for Pacific Coast Feather Company. "Even though our online store is open 24 hours, 7 days a week, we want to make this holiday shopping season convenient and easy for our customers. We are offering incredible savings on one of our favorite and most 'giftable' items. There's nothing better than curling up with a new down throw and house full of holiday warmth."
The throws are available in a number of colors including berry, leaf, chestnut, slate, lavender and sweet lilac. Made with 100% cotton and Barrier Weave® down-proof fabric, these throws are fluffy, breathable and cozy warm.
Pacific Coast® Brand Products
For more than 127 years, Pacific Coast® has been dedicated to providing premium down and feather bedding. Our long-standing down and feather expertise and the continuing traditions of quality and craftsmanship established by our founder, produce bedding for a sleep experience like no other.
Pacific Coast Feather Company
Pacific Coast Feather Company is the global leader in the basic bedding industry. Pillows, comforters, mattress pads, feather beds and sheets from the Company offer premium quality, comfort, support and durability. As a family owned business, PCFC remains true to its heritage, following the uncompromising European traditions of craftsmanship established in 1884 by Company founder, Joseph Hanauer.
###