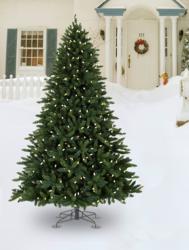 We are delighted to present these new trees as an expression of our gratitude this Thanksgiving to all our loyal customers
Redwood City, CA (PRWEB) November 23, 2011
This Thanksgiving, Balsam Hill ™, the leading online retailer of artificial Christmas trees, is making tree shopping a better experience with its new artificial Christmas trees and redesigned website pages. Balsam Hill ™ is releasing 13 new Christmas trees and several other holiday decor this Thanksgiving, in addition to the wide variety of trees already offered by the online store.
"We are delighted to present these new trees as an expression of our gratitude this Thanksgiving to all our loyal customers, who fuel our passion to create a variety realistic Christmas trees. Each of the new trees embodies our signature mark of excellence and further diversifies the options for the perfect Christmas tree this holiday season," says Thomas Harman, CEO of Balsam Hill ™.
The Allegheny Evergreen is unique among the new Christmas trees for being the first outdoor tree from Balsam Hill ™. With branches fabricated from heavy gauge wire and UV-coated needles, this tree is sturdy and fit to withstand harsh weather conditions. For its beauty and durability, the Alleghany Evergreen is a great addition to yards or decks, and is also suited for indoor use.
Another new tree is the Sonoma Slim Pencil Tree, a sleek and elegant slim Christmas tree. Balsam Hill ™ has also updated some of its classic trees such as the California Baby Redwood, one of the most realistic and most popular artificial Christmas trees of the company. This majestic tree has long, realistic True Needle ™ foliage branch tips that are set in tiers to accommodate larger ornaments.
In addition to the trees, Balsam Hill ™ is also releasing several new artificial Christmas wreaths, garlands, and teardrops, such as the Autumn Harvest Wreath and Teardrop and the Copper Creek Estate Wreath.
"Our new artificial Christmas trees and wreaths are crafted to make a home look more majestic and cheerful this holiday season. Experts have also designed them to make holiday decorating a breeze for our customers and their family," Mr. Harman adds.
Balsam Hill ™ has also redesigned the category and product pages of its website to make Christmas tree shopping easier for customers. The new design is easier to navigate, allowing customers to select and purchase holiday decor in less time.
For more information, please visit http://www.balsamhill.com.
About Balsam Hill ™
Balsam Hill™ aims to create the highest quality artificial Christmas trees, wreaths, and garlands ever produced. The Balsam Hill team is passionate about developing realistic, premium pre lit Christmas trees for a more festive -- and convenient -- holiday season. Based in Redwood City, California, Balsam Hill designs all of its own trees, which are available exclusively online through http://www.balsamhill.com.
###