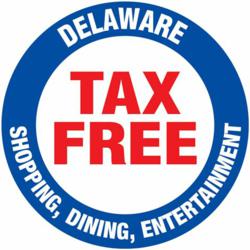 (PRWEB) November 18, 2011
As Americans struggle to emerge from the worst economic downtown in generations, money earmarked for holiday spending is expected to remain at lower than normal levels during the 2011 Christmas shopping season.
As such, consumers this year are again looking for ways to stretch their holiday budgets, and one of the best ways to do that is by saving money on each and every purchase by eliminating the (almost) always prevalent state sales tax. In the mid-Atlantic region, there's only one state where that can happen – and that's Delaware!
The southernmost regions of the country's First State are awash with specialty shops, antique centers and outlet malls. And anything that is purchased from retail outlets in Delaware – from toys, to clothing to sporting goods – is all exempt from any state sales tax.
"That's really the main benefit to doing your holiday shopping in our area. You can save a lot of money when you eliminate that extra 5, 6 or 7 percent charge from the final cost of each and every purchase," says Scott Thomas, executive director of Southern Delaware Tourism. "All that money adds up, which really gives any holiday shopper a lot more bang for their buck in terms of their gift-giving budget."
The International Council of Shopping Centers (ICSC) is expecting moderate gains in holiday spending in 2011 compared to a year ago, though levels will remain much lower than what they were before the recession began in late 2007. Similar reports reveal that consumers this season will be looking for value when making their holiday purchases, another reason to consider shopping in a tax-free state.
"People work very hard for their money and every little bit they can save helps," says Amy Norgate, general manager of the Tanger Outlet Center in Rehoboth Beach. "It's like Steve Tanger, our (chief executive officer) and president, says: 'I think that in good times, people love a bargain. But in bad times, people need a bargain.' "
And what better place to do your holiday shopping than along Delaware's Atlantic coastline, particularly in Rehoboth Beach where enthusiastic little ones can even visit Santa himself on the city's famed boardwalk every weekend between Nov. 25 and Dec. 18.
You may even catch a glimpse of the big man's "belly fully of jelly" on the boardwalk one morning, while enjoying an overnight stay at the beach at just a fraction of what rates are during the summer months.
"Think of it as a sort of shopping mini-vacation at the beach while getting ready for the holidays," says Thomas. "Tax-free shopping, discounted hotel rates and a festive holiday atmosphere at the coast all adds up to a pretty memorable trip."
More information on discounted hotel rates in southern Delaware can be obtained by visiting http://www.visitsoutherndelaware.com/hotelpackages.
While tax-free shopping is a major draw in southern Delaware once the weather turns cooler and thoughts begin turning to the holiday season, there is no shortage of activities and events to enjoy in the region during late fall and early winter.
The weekend of Dec. 3-4, for example, is overflowing with fun-filled family activities in the nation's First State, including a Christmas tour of historic Lewes, an open house at T.S. Smith & Sons, the state's oldest apple orchard, and a special presentation by the Mid-Atlantic Symphony Orchestra near Bethany Beach.
Nearly every town in southern Delaware hosts its own Christmas parade during December, in addition to tree lighting ceremonies, visits with jolly old Saint Nicholas and holiday open houses.
There is also a well-known holly festival held each year in historic Milton, once considered the holly capital of the world because it produced more Christmas holiday holly wreaths and decorations than any other town in the United States.
In the 1930s, Delaware was the leading producer of yuletide holly wreaths in the country, with neighboring Maryland running a close second. It is this rich history that Milton celebrates during the annual festival, scheduled this year for Saturday, Dec. 10, from 9 a.m. to 3 p.m.
Another family-friendly and popular local event is the annual "Caroling on The Circle" in the heart of Georgetown, the Sussex County seat. This year's event is planned for Monday, Dec. 5.
The historic Sussex County Courthouse and picturesque Circle will once again serve as the stage for the event, which features traditional and Spanish carols, as well as a visit from Santa himself. Free cookies and hot chocolate are available after the gathering at the adjoining Georgetown Volunteer Fire Company, just one block south of The Circle.
Traditional Christmas performances are also scheduled at several local theaters, including Possum Point Players in Georgetown and Second Street Players in Milford.
For more information on events and/or tax-free shopping options in picturesque southern Delaware, visit http://www.visitsoutherndelaware.com or call Southern Delaware Tourism at 302-856-1818.
Southern Delaware Tourism supports and encourages the identification, development and promotion of sustainable, year-round tourism in Southern Delaware that contributes to economic growth and improves the quality of life. For more information, call Southern Delaware Tourism at 302-856-1818 or visit their website, http://www.visitsoutherndelaware.com.
Contact: James Diehl
Southern Delaware Tourism
Media Relations Manager
302-856-1818
jamesd(at)visitsoutherndelaware(dot)com
###