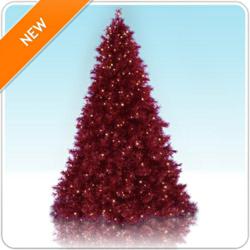 With the variety of colors and style we have to offer, there is a Christmas tree that fits the taste and needs of each customer
South San Francisco (PRWEB) November 22, 2011
Treetopia ™ is launching new colored Christmas trees to mark Thanksgiving this year and offer customers more vibrant Thanksgiving festivities. The new trees are inspired by the colors of the Christmas season aimed at vivifying holiday decor.
"Treetopia ™ has specially designed these Christmas trees as our way of wishing everyone a happy Thanksgiving. With the variety of colors and style we have to offer, there is a Christmas tree that fits the taste and needs of each customer," says Carrie Chen, spokesperson of Treetopia ™.
The Bunny Delight Pencil Tree celebrates the colors of autumn with its vivid orange hue. A 7-foot slim beauty, it gives a warm glow to any home. Another distinctive tree is the I'm Just a Rainbow Tabletop Christmas tree, which features the colors of the rainbow in its small but lush profile. Also included in the list of new Christmas trees are the Cotton Candy Pink Christmas Tree and the Pixie Chicks Christmas Trees, which come in five different colors.
The online store of artificial Christmas trees also offers creative designs that make a unique statement this Christmas such as the Knocked Upside Down Christmas Tree. This one-of-a-kind tree is meant to astound onlookers with an upside down, full profile.
Those looking for more traditional but bright trees can opt for Treetopia™'s wide selection of white Christmas trees. The store's top-seller is the Winter White Christmas Tree which is available in varying heights from 4 feet to 10 feet and is pre-lit with clear or multi-colored lights. Customers can also choose a white Christmas tree with bands of color, such as the I Want Candy Cane Tree, which showcases a swirl of red and white pine needles.
Aside from getting quality artificial Christmas trees, purchasing Christmas trees from Treetopia ™ also allows customers to spend more time with loved ones this holiday season, since buying trees online saves them the inconvenience of going out to buy one from a store.
"We not only offer exceptional and lively tree designs that are easy to set up and long-lasting; we also promote holiday decorating as a family affair by making shopping for artificial Christmas trees faster and without much hassle," Chen adds.
For more information, please visit http://www.treetopia.com.
About Treetopia ™
Treetopia.com is an online store featuring a diverse selection of artificial Christmas trees. From traditional Christmas trees to colored Christmas trees and lighted palm trees, Treetopia has something for everyone. They sell exclusively online through http://www.treetopia.com.
###