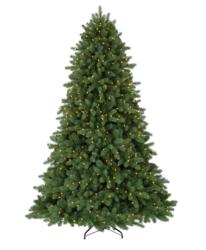 Our new Christmas trees for 2011 were made by skilled designers to give customers more realistic and beautiful holiday decor.
Oak Creek, WI (PRWEB) November 25, 2011
Tree Classics™ celebrates Thanksgiving this year with a bigger selection of artificial Christmas trees. A new website design also greets customers, making the shopping experience easier, quicker, and more joyful.
"The selection of new Christmas trees for 2011 is the product of hard work to advance our mission of being a pioneer in the artificial Christmas tree industry. These new trees were made by skilled designers to give customers more realistic and beautiful holiday decor," Kate Richter, spokesperson of Tree Classics ™ says.
Among the pioneering efforts of Tree Classics ™ was the introduction of pre-lit artificial Christmas trees and LED pre-lit trees to the market. This year, the company is giving customers alternatives with its new Christmas trees that are in keeping with their tradition of providing quality artificial Christmas trees.
Tree Classics ™ trees and accessories are crafted using a combination of traditional techniques and the latest technology to provide customers with the best options for unlit or prelit Christmas trees and accessories. The company creates its products itself, removing acquired charges for distributors or retailers. Customers also benefit from 0% sales tax (except CA, GA, WI) and free shipping.
Customers can easily navigate and browse the trees on the newly overhauled website, which has been redesigned in time for those who want to take advantage of the Thanksgiving weekend vacation to start decorating their homes.
The new Majestic Blue Spruce is a great find with its real-feel needles and space-saver features. This slim tree with blue undertones shines with clear lights, perfectly lighting up homes this season. Customers looking to save energy while having a unique tree can choose the Virginian Pine, which is with pinecones and energy-efficient LED lights.
Tree Classics ™ has also added new trees to its classic tree selection. One of the new classic Christmas trees is the Fraser Fir, a space-saver tree with life-like real-feel needles. This sports luxurious foliage and a rich green shade mimicking true evergreens. Another traditional option is the Classic Noble Fir, which is mix of PVC and PE needles in shades of medium and dark green.
"We are fortunate to have the support of loyal customers throughout the years, and we show appreciation for our customers' loyalty by constantly improving our services and products," Richter adds.
Tree Classics ™ also recommends that customers purchase one or two of their Christmas wreaths and garlands to accompany their selection of artificial Christmas tree.
For more information, please visit http://www.treeclassics.com.
About Tree Classics™
Tree Classics has been producing the world's finest artificial Christmas trees since 1976. They were the first to manufacture prelit Christmas trees and LED Christmas trees, which are renowned for their quality, beauty, and attention to detail. Today, the company sells their beautiful Christmas trees exclusively online at http://www.treeclassics.com.
###