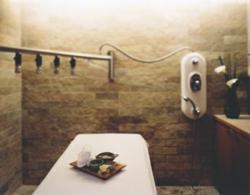 One of three spas in Ontario to carry the distinction for 2012.
Toronto, Ontario (PRWEB) November 20, 2011
Forbes Travel Guide, formerly Mobil Travel Guide, today unveiled its 54th annual listing of hospitality establishments which recognizes the industry's most outstanding establishments in a distinctive setting. Park Hyatt Toronto is one of four hotels in Ontario to be awarded the prestigious Four Star award. The Toronto luxury hotel's Stillwater Spa is also honoured to be recognized as one of three spas in Ontario to carry the distinction for 2012.
In total, there are only 177 hotels in North America that are recipients of this year's Four Star award, and only 106 spas (six of which are in Canada). This is the downtown Toronto hotel and Stillwater Spa's eighth consecutive year of being honoured with the Four Star rating.
"Whether visiting the hotel or spa our guests look to us to provide a truly exceptional level of luxury and service in Yorkville – they do not consider this just a visit but more of an experience, and we strive to provide that with each connection. We consider it an honour to be once again recognized with the Forbes Four Star rating this year," said Paul Verciglio, General Manager of Park Hyatt Toronto.
Park Hyatt Toronto and Stillwater Spa will also be showcased with all of the 2012 award winners on Startle.com, the new interactive website of Forbes Travel Guide. Launched today, the site features exclusive offers, or "Star Experiences", as well as access to some of the world's award winning luxury hospitality brands and tastemakers. Startle.com delivers a one-of-a-kind destination online for the most discerning travelers.
"Our annual ratings represent the best of the best in hotels, restaurants and spas. They serve as guideposts for consumers who are looking for exceptional travel experiences," said Shane O'Flaherty, President, Inspections & Ratings, Forbes Travel Guide. Park Hyatt Toronto and Stillwater Spa are the latest installments to the travel ratings system that has been the gold standard in the industry since 1958.
About Forbes Travel Guide
Forbes Travel Guide, originator of the prestigious Mobil Travel Guide Star ratings and certifications has provided the most comprehensive ratings and reviews of hotels, restaurants and spas since 1958. In October 2009, Mobil Travel Guide announced a strategic partnership with Forbes Media LLC. This exclusive licensing agreement between two industry leaders with more than 140 years of combined experience transfers the hospitality industry's premier star rating and travel guide brand from ExxonMobil to Forbes. Forbes Travel Guide has a team of expert inspectors who anonymously evaluate properties against rigorous and objective proprietary standards, providing consumers the insight to make better-informed travel and leisure decisions.
About Forbes Media LLC
Forbes Media encompasses Forbes and Forbes.com, the #1 business site on the Web that reaches on average more than 17 million people monthly. The company publishes Forbes and Forbes Asia, which together reach a worldwide audience of more than 6 million readers. It also publishes ForbesLife magazine, in addition to licensee editions in China, Croatia, India, Indonesia, Israel, Korea, Poland, Romania, Russia and Turkey.
Other Forbes Media Web sites are: Investopedia.com; RealClearPolitics.com; RealClearMarkets.com; RealClearSports.com; and the Forbes.com Business and Finance Blog Network. Together with Forbes.com, these sites reach on average nearly 40 million business decision makers each month.
About Park Hyatt Toronto
Park Hyatt Toronto is perfectly situated in the heart of Yorkville. This luxury hotel stands high amidst Canada's finest art galleries and renowned museums, across from the spectacular Royal Ontario Museum and the Michael Lee Chin Crystal. Park Hyatt Toronto offers a warm, residential feel with 336 elegant guest rooms, including the Sarah Richardson-designed Pink and Blue suites and the 2,500 square feet Algonquin Suite. Enjoy one of the city's best views from the legendary Roof Lounge or retreat to the award winning 10,000 square foot Stillwater Spa. Reservations can be obtained by calling 416-925-1234 or visiting http://www.parkhyatttoronto.com.
###