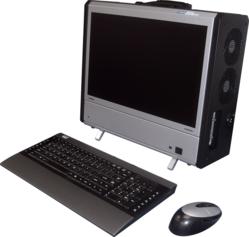 Nashua, N.H. (PRWEB) November 21, 2011
NextComputing, manufacturer of high-performance, small form-factor and portable workstations, announces the availability of NVIDIA® Maximus™ technology in its high-end Nucleus and Radius EX workstations.
NVIDIA Maximus reinvents the design and simulation workflow for engineers, designers, and artists, delivering an interactive visualization and simulation/rendering experience that can drastically improve efficiency. NextComputing brings this capability to the smallest and lightest high-performance workstations available, adding the benefits of portability and space savings to NVIDIA's groundbreaking new technology.
At the heart of NVIDIA Maximus technology are two key elements – an NVIDIA Quadro® GPU and NVIDIA Tesla™ GPU. The Tesla C2075 GPU functions as a computing co-processor, performing the heavy lifting of rendering or CAE computations, while the Quadro GPU is free to perform high-quality interactive 3D graphics. This greatly accelerates product design workflows, which traditionally have relied on separate processes, computing resources, and staff for product design versus simulation. While parts and assemblies have been typically created on an engineer's workstation, complex virtual prototyping and fluid dynamics simulations have been run on clusters of CPU-based servers as a separate process. NVIDIA Maximus enables simultaneous visualization and simulation, all on a single workstation, by leveraging the power of the GPU.
NVIDIA Maximus currently supports leading design, simulation, and content creation applications such Dassault Systèmes CATIA, SIMULIA, and SolidWorks, PTC Creo Parametric and Pro/Engineer, ANSYS Mechanical, Autodesk 3ds Max, Bunkspeed Pro Suite, and Adobe Premiere Pro.
NextComputing offers two solutions for NVIDIA Maximus: the Nucleus small form-factor tower workstation and the Radius EX portable, high-performance workstation briefcase system with integrated 17" HD display. Both systems feature:

Single Quad-Core or Six-Core Intel® Core™ i7 or Xeon® processor
Up to 24GB DDR3 memory
NVIDIA Tesla C2075 computing co-processor
NVIDIA Quadro professional graphics, including the Quadro 600, 2000, and 4000
Multiple terabytes (TB) of internal fixed and removable storage using enterprise class SATA, SAS, and SSD 2.5" drives
Compact and lightweight chassis with convenient handle for easy portage
Nucleus offers the smallest desktop footprint available in a high-performance graphics engineering workstation at half the size and weight of typical tower workstations. This makes the system ideal for offices with limited space such as tightly-packed loft cubicles and remote trailers. The system's light weight also makes it practical for carrying to other locations such as off-site meetings or even just down the hall to another office or conference room. For the ultimate in portability, the Radius EX packs the same performance as Nucleus in an all-in-one chassis with integrated high-resolution 17" HD (1920x1200) monitor, and includes a high-quality padded carrying case; rolling cases and rugged hard cases are also available.
For information about NextComputing's NVIDIA Maximus solutions for engineers, designers and content creators, please contact sales(at)nextcomputing(dot)com or call +1-603-886-3874.
About NextComputing
Based in Nashua, NH, NextComputing is a unique technology company specializing in extreme-performance portables and dense streaming rackmount computers. Its open-standards, modular systems are used throughout many industries for a range of professional applications including real-time 3D visualization, high-throughput data streaming, and high-end application demonstration. Visit http://www.nextcomputing.com for more information.
Copyright legal disclaimer: All trademarks contained herein are property of their respective copyright holders.
###