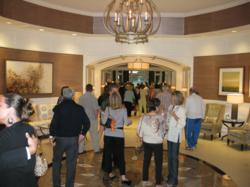 Delaire offers its residents a very unique lifestyle... one that is unmatched by any other development in the area.
Delray Beach, FL (PRWEB) November 19, 2011
The atmosphere was electric as more than 375 Delaire Country Club members gathered in the early evening on November 15th to witness the ceremonial ribbon cutting that marked the completion of the community's totally new 47,000 sq. ft. clubhouse.
The ceremony, presided over by Club General Manager Trent Squire and Club President Dr. Gary Rose, was attended by Delray Beach Mayor Woodie McDuffie, as well as representatives from the team of professionals responsible for the design and construction of the elegant transitional style building, and resident members of the Construction Oversight Committee.
Delaire's renowned signature, as one of Palm Beach County's most desirable residential communities, has been further enhanced by the completion of its massive $21 million expansion project. After General Manager Squire thanked members for their patience during the construction period, President Rose noted "the grand opening of our magnificent new clubhouse is further testimonial to our Board of Governors' ongoing desire to maintain the high standards that places Delaire among the finest country clubs in the nation today."
With the official ceremonies concluded, members and guests entered the clubhouse's impressive two-story entrance foyer to tour the facilities that include a handsome main dining room, a casual grill room and a series of elegantly designed men's and women's card and locker rooms. The evening concluded with a fabulous cocktail buffet prepared by Delaire's Executive Chef Glenn Matusik.
As the centerpiece of Delaire's recreational facilities, the new clubhouse now joins the already completed state-of-the-art fitness center, the updated tennis center, new pool and kids' play areas, new entryway and other new amenities. The project includes an integrated communications system linking the recreational complex as well as offering wireless internet access for all members. The entire complex is designed to further enhance Delaire members' well-known enjoyment of "walk on golf" with no tee times on the 27 holes of its scenic Joe Lee-designed golf course.
Delaire Country Club is an upscale private country club of 326 single-family homes located on Military Trail along the Boca Raton-Delray Beach line. "This is an excellent time to consider purchasing a home in this outstanding community," says General Manager Squire. "Delaire offers its residents a very unique lifestyle... one that is unmatched by any other development in the area."
To learn more about the unique lifestyle offered at Delaire Country Club, contact Liz Shaw, Executive Coordinator, at 561-499-9090, or visit http://www.Delaire.org.
# # #